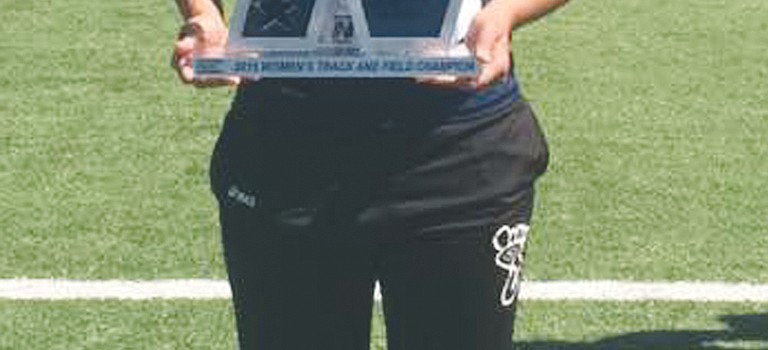 For all intents and purposes, the entire Bickleton High School track and field team will be moving on to Regionals this coming Friday in Ephrata.
The Sunnyside High School boys soccer team will be competing tonight on its home field against Davis for a State tourney berth, but one of its key players, Christian Chavez, is certain of his immediate future.
Prepping for the postseason, the Sunnyside High School track and field squads picked up a couple of victories yesterday at a meet hosted by the Eisenhower Cadets.

The Grandview boys soccer team kept its chances at earning a 2A State tourney berth alive last night, winning a loser-out District playoff game against visiting Toppenish, 3-1. The win advances the Greyhounds to a Regional loser-out game at Pullman tomorrow (Saturday) at 1 p.m.
MABTON – The Lady Vikings fastpitch squad finished out its season last night with a non-league doubleheader against Granger.

Grandview to host loser-out match against Toppenish tomorrow
GRANDVIEW – Last night's District tourney 2-1 loss to the Huskies wasn't the outcome CWAC champion Grandview had hoped for.
Grizzlies to host Davis in loser-out District showdown
WENATCHEE – The Grizzly soccer team has one more opportunity to earn a State tournament berth this coming Friday at home against Davis.
PASCO - With the Columbia Basin Big Nine League District 6 championships on the horizon, Sunnyside High School tennis Coach Mike Thorpe is looking to take 18 of his players to Eastmont this coming Saturday, May 16.

Sunnyside Christian's varsity team, after handing the Zillah JV fastpitch softball team a 17-1 loss last night, turned the nightcap over to its "B" squad and suffered a 21-8 loss.
YAKIMA – You can't commit six errors and muster just two hits at the plate – not playing Big Nine League baseball - and expect to come away with a postseason berth.

YAKIMA – Sunnyside golfer Ryan Van Boven this past Monday tied his season low score, carding a 103 at Apple Tree Golf Resort in Yakima.

Sunnyside High School fastpitch softball coach Ronaldo Aguirre has resigned with a week left in the regular season.