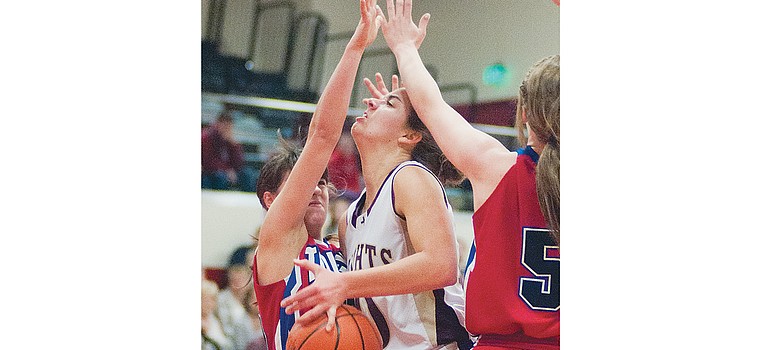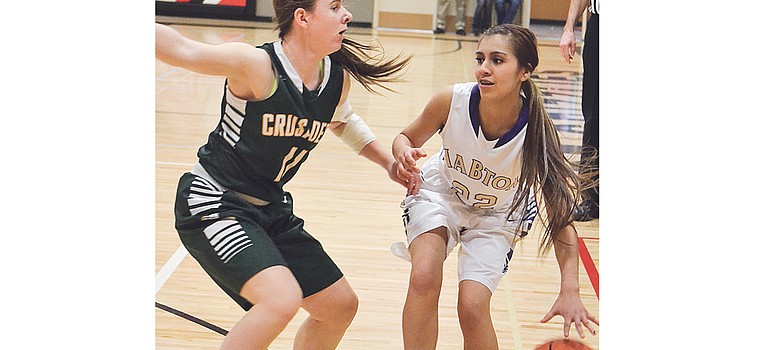 Lady Grizzlies can clinch Regional berth this Thursday
The Lady Grizzlies pounded the "all in" sign before they took the basketball court.
Thanks to what some might describe as Lindsay Brown's best performance of the season, the Bickleton High School girls' basketball team is moving on in the class 1B playoffs.
The Bickleton boys basketball team last night finished its 2014-15 campaign in a loser-out District match-up against Yakama Tribal.
Both, the Sunnyside Christian High School girls' and boys' basketball teams will be playing postseason games close to home later this week.

Helping celebrate the Sunnyside High School girls basketball team's Big Nine League championship, as well as playoff-opening victory over the Eastmont Wildcats last night is senior Natalia Bazan.

Although the final 91-60 score doesn't look like the Sunnyside boys fared very well last Friday against Wenatchee, Coach Geoff LaBrant said there were small victories in the team's final game of the 2014-15 campaign.
With District tournament wins over Bickleton and Yakama Tribal last weekend, the Sunnyside Christian High School boys basketball team now has Spokane squarely in its sights.
2B BOYS BASKETBALL PLAYOFFS
Okanogan showed why it's the fourth-ranked class 2B boys hoop team in the state with a decisive 66-53 win over Mabton last Saturday in a District semi-final contest.
A pair of juniors who still have one full season ahead of them on the prep hardwood courts have been named the players of the year for the Greater Columbia 1B League in boys and girls basketball.
Not only did the Sunnyside Lady Grizzly wrestling team earn a Regional title last weekend in Othello, in the process Coach Casi Sambrano was named Coach of the Year for Region 4.
PBA member Rob Rice, who also owns and operates Valley Lanes, recently rolled a perfect 300 game at the Sunnyside entertainment center.

The Sunnyside Lady Grizzly basketball team avenged its first loss of the season with a 69-52 thumping of visiting Wenatchee last Friday.
The Sunnyside girls varsity basketball team's success isn't an isolated achievement.
S'side sending 11 to State
OTHELLO - Sunnyside High School took 11 girls to the Regional wrestling tourney last weekend, and all 11 advanced to this coming Friday and Saturday's Mat Classic in Tacoma.
Video