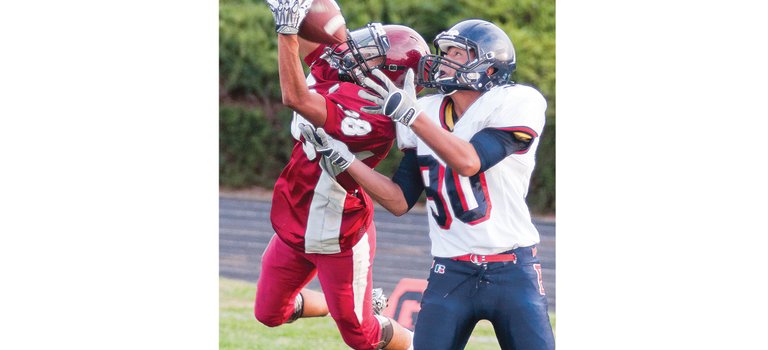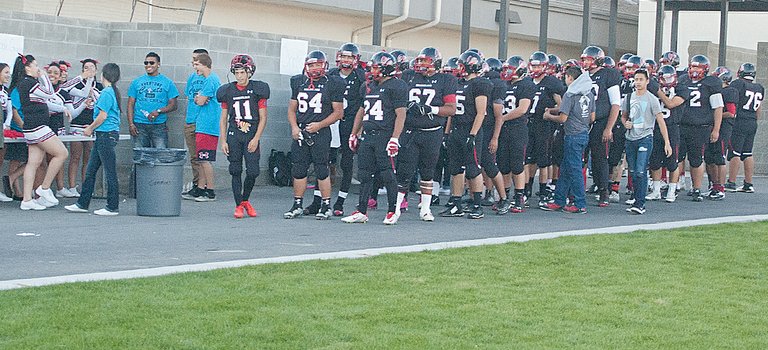 The Sunnyside High School volleyball team was unable to secure a win this past Saturday at the Yakima Valley SunDome Festival.
If Coach John LaFever was looking for a slug of victories at the Yakima Valley SunDome last Saturday, he didn't get them.
Collectively, it would have been difficult for Sunnyside Christian's volleyball players to have turned in a stronger effort from the service line at last Friday's Yakima Valley SunDome Invitational.
The Mabton Lady Vikings proved competitive this past Friday during the SunDome volleyball tourney.
The Bickleton volleyball squad finished Yakima Valley SunDome Festival play on a high note last Friday, defeating Entiat in the final set, 15-12, for the Lady Pirates' only victory of the tourney.

Ricky Abarca (#38) of Grandview High School's JV football team nearly makes an acrobatic TD catch just before the halftime whistle during last night's game against the Ellensburg JV.
Sunnyside's Titus Hazzard and Hayden, Idaho resident Mike McMeans bested the field with only two misses and the exact same tiebreaker score in this past weekend's football forecast contest sponsored by Sunnyside-area merchants.

Games and pom poms were an important part of last Friday night's Sunnyside High School freshmen pre-game tailgate party.

For the second consecutive game the Sunnyside Grizzly football team reached the opponent's 1-yard line in the final seconds of the first half…only to not score and end up on the losing side of the scoreboard.
Sunnyside Christian home opener set for Friday, Sept. 19
TOUCHET – The Sunnyside Christian Knight football team gave 2013 State runner-up Touchet all it could handle before falling 72-38 last Friday night.

GRANDVIEW – With just one senior on its roster this season, the Grandview High School girls soccer team is undeniably young.
GRANGER – It took two overtimes to decide the final outcome of the non-league match-up between 2B Mabton and host 1A Granger this past Friday.
ELLENSBURG – And, they're off!
EPHRATA – A veteran in the prep swimming ranks, Sunnyside High School's Cassadie Moore spearheaded a strong performance by the Lady Grizzlies at last Saturday's season opening, non-scoring meet hosted by the Ephrata Tigers.

The Mabton High School girls soccer team last night struggled with communication, missing connections between its midfielders and forwards.
Previous Next
Video