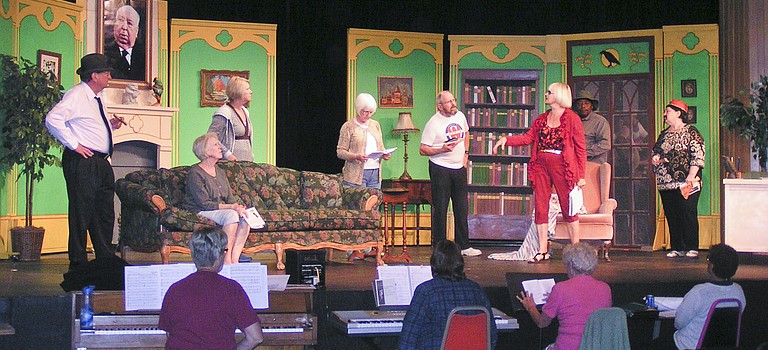 The Fireworks Ensemble entertain music lovers last night, Tuesday, during the latest installment of the Lower Valley Community Concert series.
A silent auction and barbecue meal is being planned for Sunday, Sept. 20, at Sunnyside's United Methodist Church.
The Grandview Parks and Recreation Department in partnership with Grandview High School seniors Sandy Prieto and Cicely Lopez will be offering a Hawaiian themed mother-son dance on Saturday, Sept. 26, from 7 to 10 p.m. at the Grandview Community Center.
Learn how to band a duck, build a wood duck nest box and identify the critters in the water all around us.
The Larson Gallery at Yakima Valley Community College's campus in Yakima will open its newest exhibit, "Metamorphosis," on Thursday, Sept. 17.

"Butt Kapinski" - an interactive comedy that invites the audience to participate in a film noir murder mystery – will be staged at the Gesa Power House Theatre Friday and Saturday, Oct. 16-17.
Conover Insurance Company's transportation division will host its annual truck driver appreciation barbeque at Khalsa King Truck Stop in Pasco on Thursday, Sept. 17, from 11 a.m. to 2 p.m.

Celebrate the love of roads, the automobile and the arts at the Maryhill Museum of Art on Oct. 3-4.
ASHFORD - The Mount Rainier climbing community has only one way to end the summer climbing season - with a bang.

ELLENSBURG – The Washington State Parks and Recreation Commission and the Kittitas Valley Early Iron Club invite the public to the 33rd annual threshing bee at Olmstead Place Historical State Park.
KENNEWICK - The Richland Kennel Club will be hosting its annual American Kennel Club obedience trial, rally trials and conformation events during the fall dog show at Columbia Park in Kennewick Thursday through Saturday, Sept. 24-26.
GRANGER – The annual Menudo Festival in Granger will be staged this coming Sunday at Hisey Park.
The annual Bloomerang event in Sunnyside on Saturday, Sept. 12, will feature a car show and cruise event.
PASCO – The Fiery Foods Festival, featuring at least eight food trucks, eight local bands and a community festival, is planned to start at 8 a.m. on Saturday, Sept. 12, in downtown Pasco.