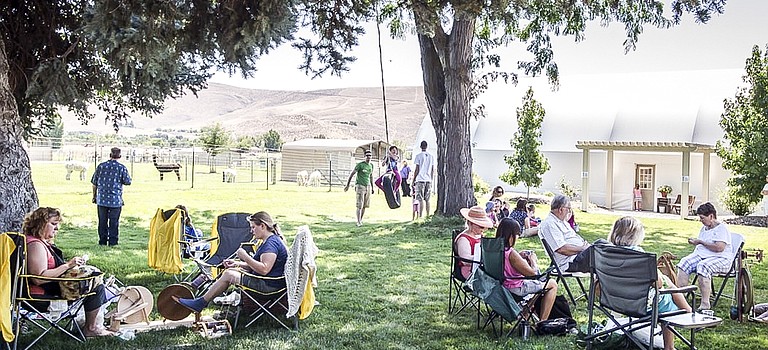 The rocket's red glare will be reflected over the Hisey Park ponds Monday night during the Dinosaur City Fireworks Show.
Already you can hear the rat-tat-tat of small firecrackers in various Lower Yakima Valley neighborhoods.

Wanting to earn their patriotic badges while serving their community one group of girls are volunteering their time Monday night.

Spend a summer evening walking historic Sixth Street at the 13th annual Art Walk and Wine Gala.
Hisey "Dinosaur" Park will be the location for a free, outdoor showing of The Good Dinosaur, July 15, as soon as it is dark.
It's festival time at Bill's Berry Farm on County Line Road.
Learn to play the Italian game of bocce while enjoying a bottle of wine Friday evening at Pontin Del Roza
For those who missed out on eating one of chef Chris Guerra's wood-fired pizzas at Wednesday night's farmer's market in Sunnyside, here is another chance.
Celebrate summer at the Downtown Summer Nights concert series each Thursday through Aug. 18. All shows begin at 6 pm.
The Monday Morning Movie Matinee series continues at the Princess Theatre.

Three community-theater veterans have been chosen as the cast for Valley Theater Company's next presentation at the Princess Theatre.


Planning to exhibit or show at this year's Central Washington State Fair?

In an effort to give local artists an opportunity for more exposure, the city's Arts Commission has launched what it hopes will be a rolling art show.