Thursday, January 11, 2018
/lk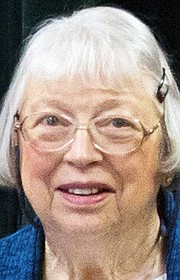 Janet M. Anderson was born Jan. 17, 1936, in Mount Vernon, to Earl and Emma Hanson and went home to be with her savior Jan. 6, 2018, in Yakima.
Janet graduated from Mount Vernon High School in 1954 and Washington State College in 1958 with a degree in home economics education.
She married Vernon Anderson June 21, 1958. They lived in Ephrata, Mesa, and Boise, Idaho, before they moved to Sunnyside in 1969.
Janet was active in her community as a member of the United Methodist Church, PEO, Nouvella, Community Concert Association, Lower Valley Square Dancers, and Elks Women's Auxiliary.
She taught HeadStart, microwave cooking, and college nutrition. She was also a substitute teacher in the Sunnyside School District.
Janet enjoyed creative pursuits of singing, baking, and quilting. She also enjoyed spending time with friends and family, dancing, playing games, making puzzles and visiting.
Janet was preceded in death by her husband Vernon Anderson, twin sons Matt and Mark, her parents Earl and Emma Hanson, and her brother Jerry Hanson.
Janet is survived by her brother Jim Hanson (Barbara) of Mount Vernon, her daughter Karol Snook (Doug) of Spokane Valley, her daughter Jill Shuttleworth (Mike) of Sunnyside, her son Steve Anderson of Sunnyside, grandchildren Dan Snook (Lauren) of Alexandria, VA, Helen Jetter (Alex) of Eugene, Ore., Nathan Snook (Nikki) of Spokane Valley, Emily Shuttleworth of Cambodia, Rachel Slemons (Nehemiah) of Kirkland, Hannah Snook of China, John Snook of Spokane Valley, and great grandchildren Ian, Dean, Cedric, Axel, and Lyra.
A memorial service will be held at 3 p.m. Jan. 20, 2018, at Sunnyside United Methodist Church.
Memorial donations may be made to the Sunnyside United Methodist Church or Heartlinks Hospice.