Wednesday, January 10, 2018
/lk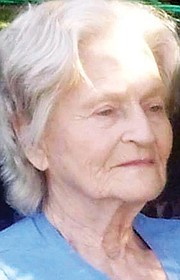 Janet Lorrainne (Watson) Hanson was born Dec. 25, 1932, in Coeur d'Alene, Idaho to Jennie and Joseph Watson.
She passed away on Jan. 5, 2018, in Yakima.
She and her family moved to the Yakima Valley where she met Carroll P. Hanson and married in 1949.
She is survived by her son, Stephen Hanson, daughter-in-law, Sharon, daughter, Dana Hanson, and son-in-law Jodie Luke. She is also survived by her grandchildren Jenny Brownfield, Stephen Hanson, Melissa Morris, Casey Nold, Savannah Dunn, Holly Calhoun, Donnie Dunn, Michael Dunn, and Chrystin Firestone. She also has 13 great-grandchildren and 2 great-great-grandchildren, along with several nieces and nephews. She was the last remaining of her 12 sisters and brothers.
She was proceeded in death by a daughter, Carolyn Hanson and her loving husband Carroll.
She was an avid sports woman who enjoyed hunting and fishing. She loved spending time with her family, gardening, and reading her Bible. She will be greatly missed, but never forgotten.
Graveside services will be held at 1 p.m. Friday, Jan. 12, 2018, at Lower Valley Memorial Gardens in Sunnyside.
Condolences can be left for the family at www.valleyhillsfh.com.
More like this story