Wednesday, January 3, 2018
/lk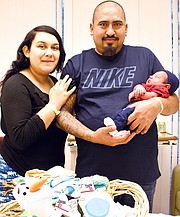 It could have been the gravitational pull of first new moon of the new year or it could have been the noise explosion of party-goers after midnight on Jan. 1.
Whatever the cause, four Lower Valley expectant mothers started arriving at Astria Sunnyside Hospital just after 1 a.m. Those four mothers all became the parents to New Year's Day babies.
Elmira Martinez of Outlook didn't know she was in contention for first baby of the year bragging rights. In fact, she thought her baby wasn't due until Thursday.
But the noise of the New Year's revelers in Outlook must have alerted her baby to the possibility.
Martinez, who has three little boys at home, said the noise woke her up just after midnight.
"I was hurting a little, but I went back to bed," she said.
By 1 a.m. she was on her way to the hospital.
"I told Leonel we have to go," she said.
Elmira Martinez and Leonel Guzman of Outlook welcomed their son, Carlos, named after her father, at 2:56 a.m.
The 21-inch long, 7 lbs., 11 ozs. infant was in a rush to arrive once he started down the birth canal.
"I didn't have time to have any medicines," mom said. "It was a natural delivery."
That made her nervous.
"He is the first of my babies to come with no epidurals or pain medicines," she said.
Dr. Brizuela told Martinez it was time when he got to the hospital, just 40 minutes after she had been admitted.
"I just listened to him, and everything was okay," she said.
Martinez said there was another mother in labor at the same time.
But her baby wasn't born until much later, Martinez said.
In fact, the local hospital got to claim the first four babies born in Yakima County in the new year.
7:59 a.m.
Esther Cervantes-Mendoza's and Edilberto Sanchez' boy was born at 7:59 a.m.
8 a.m.
Yadira Diaz Hernandez' and Felix F. Placencia Bernal's daughter was born at 8 a.m.
12:27 p.m.
Marisol Gomez' and Brian Galvan's baby boy arrived at 12:27 p.m.
This the first time in recent memory that all four of the county's New Year's babies have been delivered at the local hospital within just hours of each other.
And, according to the Family Birth Center nursing staff, the rush of baby deliveries still hadn't slowed as of Tuesday.

"We know when there is a full moon, we're going to have a lot of babies, said Birthing Center Nurse Tomi Liefke.
"But we weren't expecting any of these women to deliver so soon," she said. We just got busy."
The run on deliveries created a little back-up. Already three of the moms and infants have been discharged.
The Guzman baby will head home today, perhaps a perk being first.
For his timely entry into the world, his parents received a large basket of baby items, courtesy of the hospital. Carlos will join three older brothers — Juan 7, Jafet, 3, and Josue, 2.
"I'm going to be pretty busy with all these boys," Martinez said.