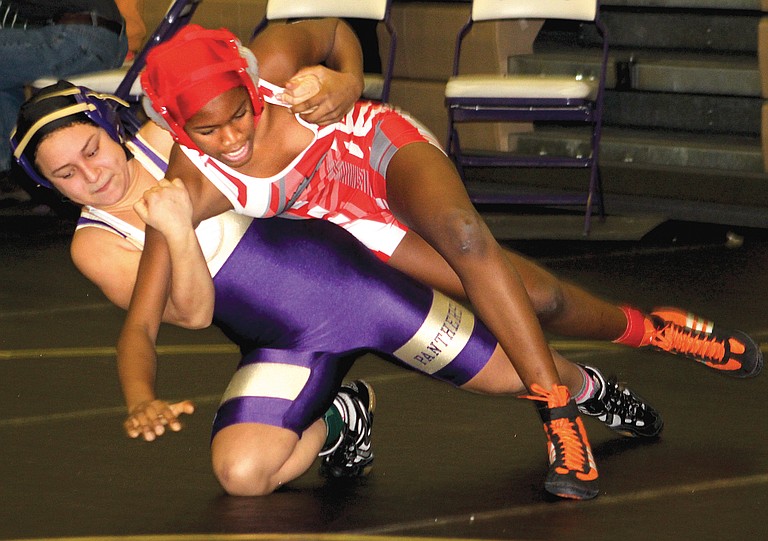 Tuesday, January 2, 2018
/lk
RICHLAND — The Granger girls wrestling team finished fifth overall Friday in the Girls Winter Cup at Hanford High School.
Eastmont of East Wenatchee took top team honors with 208 points, followed by host Hanford with 115, Quincy with 110 and Hood River with 86. Granger had 84.
Twenty-one teams competed in the tournament. Other area teams competing included Wapato, which finished ninth with 74 points, 15th-place Mabton with 39 points and 16th-place Prosser with 32.
The Spartans were led by Liliana Luna at 110 pounds and Viktorya Torres at 120, both of whom captured gold medals.
Luna received byes in the first two rounds of the tournament then pinned Missy Martinez of Tonasket in 29 seconds in the semifinals. In the championship bount, she pinned Neyali Flores of Walla Walla in 49 seconds.
Torres, too, received a first-round bye.
Then in the quarterfinals, she pinned Marlene Villa of Eastmount in 1:56 to advance to the semifinals, where she pinned Angel Reyna of Mabton in 3:02.
In the title match, Torres pinned Jazmin Mercado of Kennewick in 5:26.
In addition, Granger's Nizhoni Tallman won bronze at 100 pounds.
Tallman received a first-round bye, but then fell 7-6 to eventual champion Shyanne Change of Eastmont in the quarterfinals. After the loss, she received two consolation round byes before facing Mandi Wilson of Tonasket. She pinned Wilson in 1:06 to reach the bout for third-fourth place.
In her medal match, Tallman pinned Elizabeth Torres of Prosser in 4:11 to win bronze.
Granger's other wrestlers were Alejandra Isiordia, seventh at 100 pounds; Ada-Rosales Isiordia, seventh at 115; and Nancy Mendoza at 190, who did not place.
Wapato, too, brought home two golds and a bronze.
Unique Orozco won the 105-pound title and Estrella Pulgarin won at 140. Meanwhile, Sitlaly Macias finished third at 125.
Orozco opened her title run by pinning Aryn Dahlstrom of Hood River in 1:14. She followed that up in the semifinals by pinning Xochitl Tafoya of Quincy in 2:37. In the championship bout, she pinned Kelsey Ibarra of Wenatchee in 3:04.
Pulgarin, too, pinned all her opponents, starting with Devina Fish of Ephrata in 26 seconds. She won the semifinals over Sara Morrow of Wenatchee in 1:26 and the title over Jaselyn Jones of Quincy by pin in 1:45.
Pulgarin finished fourth in standings with the most pins in the least amount of time. Her three pins took only 3:37.
Macias' third-place finish came after she was pinned by Taylor Robbins of Hanford in 1:42 in the semifinals. Wrestling through the consolations, she pinned Aryanna Silva of Eastmont in 3:39 and then pinned Alexis Mondragon of Quincy in 1:27 for bronze.
Mabton girls were led by Sandra Urbina and Reyna Huecias — both made the finals at 190 pounds. Huecias won gold and Urbina silver.
Huecias pinned all three of her opponents, starting in the quarterfinals with a 1:40 pin of Haleigh Barnes of Kamiakin. In the semifinals she pinned Jenna Martinez of Eastmont in 1:48. She finished her title run by pinning teammate Urbina in 4:00.
Huecias finished 11th overall with the most pins in the least amount of time. Her three pins took a total of 7:28.
Urbina won her first match by pinning Railyn Elliott of Riverside in 2:52. She advanced to the finals after an 11-8 victory over Christine Marquez of Hood River.
Angel Reyna took sixth place for Mabton at 120 pounds.
Only one Prosser girl made it into the Top 4.
At 100 pounds, Elizabeth Torres lost her opening match to Taylor Wilson of Hanford by pin in 0:58.
But she came back through the consolation bracket to pin Alejandra Isiordia of Granger in 3:47, then by pinning Mustang teammate Karina Mojica in 2:42.
In the bout for the bronze, Granger's Tallman won.
Prosser's other competitors included Mojica finishing sixth at 100 pounds, Eddlyn Ramangmou sixth at 115, Martha Akimbade fifth at 135 and Jennifer Rojas sixth at 135.