Friday, September 8, 2017
/lk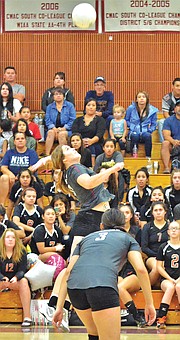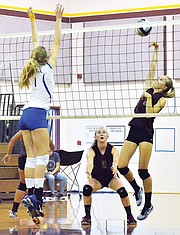 SUNNYSIDE — Girls volleyball teams kept area sports fans satisfied last night.
There were rallys with some success and there were miscues that could have disheartened the players.
Non-league matches like those played last night between 1B Sunnyside Christian and visiting 1A La Salle, 2A Grandview and visiting 4A Davis, 2A Prosser and visiting 1A Granger, and 2A Toppenish and visiting 2B Mabton give the teams a chance to work on their skillsets in preparation for the league matches.
"We played great defense, but we need to work on our defense," Knights coach Laura Eisinga said.
"La Salle was a tough team," she said.
Sunnyside Christian lost in three straight sets (11-25, 8-25, 13-25) against the Lightning.
There were highlights from individual Knights. Alyssa Martin was 6-6 serving, had 12 perfect passes and had 6 digs; Krista den Hoed was 9-9 serving with an ace, 2 kills and 10 digs; Madi Candanoza had 5 perfect passes and 5 digs; Madison Bosma delivered 3 kills; Sailor Liefke had 6 perfect passes and 10 digs; and Destiny Fonseca was 5-6 with an ace.
Granger and Prosser battled through five sets before the Spartans decided the match, 3-2.
The Mustangs opened with a 25-22 first set win, but the Spartans battled back in the second to a 25-17 decision. The third set went Granger's way, 25-19. But, Prosser fought to a 25-15 fourth set victory, forcing the teams into a fifth and final set.
Granger's Christina Ruiz had 3 aces, 17 digs and 22 perfect passes; Emma Stewart was 18-19 serving and had 8 kills; Kaitlyn Roettger was 19-20 with 18 digs and 18 perfect passes; Lily Stewart had 16 kills; Naya Roettger was 14-15 and had 30 assists; and Sophie Blodgett was 14-15, had 3 aces, 12 kills, 4 assists, 7 digs and 18 perfect passes.
"It was a barn burner," Spartans coach Lacey Martin said. "They (Granger) just gritted it out."
Prosser leaders were Ashley Ripplinger with 15 kills and 8 blocks; Leah Blakney with 14 kills; Kylie Colson with 4 aces and 7 kills; Brandi Groeneveld with 24 digs; and Kayla Lind with 36 assists and 14 digs.
The Greyhounds defeated Davis, 3-1 (25-21, 24-26, 25-18, 25-11).
"The girls did a great job working together as a team," assistant coach Orejeona Jefferies said.
Leaders included Bailey Duis with 15 kills, 16 digs and 3 blocks; Alexandra Garcia with 12 assists and 2 kills; Cassidy Eucker with 5 aces and 9 digs; and Marin Bender with 6 kills and 3 digs.