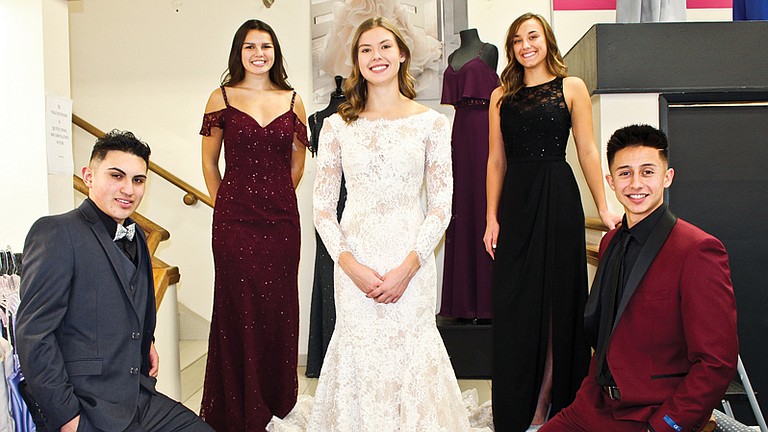 Tuesday, October 31, 2017
/lk
SUNNYSIDE — For more than 30 years, Irene Jochen of Fashion Corner has worked hard to build a name for her store as the place to shop when shopping for a wedding dress or other special occasion attire.
How she is sharing her knowledge at a "Here We Are" Bridal Workshop to be held from 11-4 p.m. Nov. 12 in the Aspire Salon, 511 S. Decatur.
Jochen has attended bridal shows throughout the region has gained the reputation of having exactly what the bride-to-be wants.
"What few people know is that, in addition to being Central Washington's wedding mecca, there are lots of local businesses that cater to weddings in our community," she said.
At Sunday's workshop, there will be vendor tables set up, representing local caterers, florists, photographers, bakeries, music and jewelers, all in one location.
In organizing the bridal workshop, Jochen said she wanted to give brides and their families an idea of what is available for both the more elaborate wedding to the intimate affairs.
She said she also wanted to give families planning quinceañeras an idea of venues where the traditional 15-year-old birthday parties might be held.
For example, Jochen chose the Aspire Salon as the location for her workshop.
"It's bigger than it looks and there is a lot of parking," she said.
But most people aren't aware that owner Raul Castro has his hall available for rent, she said.
"We are hoping to pull together all of the hidden treasures in our community that can help create a lovely wedding," Jochen said.
In addition, Jochen also wants each vendor to give potential clients an idea of how soon to book various services.
For example, by the time the January wedding shows occur, it's too late for a June bride to be looking for a vendor.
There is a lot of pre-planning that goes into planning a wedding. "We're hoping this event with help brides understand the necessity for pre-planning," she said.
Admission is free to attend.