Monday, October 30, 2017
/lk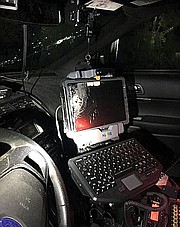 YAKIMA — Bail was set at $500,000 each for the two lower valley men accused of shooting at a state trooper trying to make a routine traffic stop last Monday.
Manuel Jovanni Aviles, 18, of Mabton, and Felipe Cortes Barajas, 39, of Grandview, were apprehended by the Washington State Patrol in Othello on Thursday morning.
The night of the shooting, a car with no front license plate on state Highway 241 passed in front of trooper Nate Dawson, who was stopped at the Alexander Road intersection in Sunnyside.
Dawson got in behind the car and eventually activated his emergency lights to make a traffic stop. But the suspects decided to flee and a chase with speeds in excess of 100 mph ensued.
It ended about six minutes later when the suspects ducked into a driveway at 3830 Forsell Road.
The suspects exited their car and starting firing at Dawson. He returned fire, then things cooled down as the suspects escaped into the night.
Law enforcement personnel, using SWAT tactics and equipment, looked for the suspects well into the night and again all day Tuesday.
But the suspects were not to be found.
On Friday, the patrol spokesman Chris Thorsen thanked modern technology for helping find the suspects.
When the suspects abandoned their car at the Forsell Road location, they left cell phones behind, he said. After securing a warrant to read the phones, investigators were able to track the pair's movement through contacts on their phones.
Some people were cooperative; others weren't, he said.
"They had help from family or friends to get to Othello," Thorsen. "We're investigating all the people who helped them."
In addition to cell phones, troopers searching the car found a rifle similar to an AR-15, a stolen shotgun and 20 pounds of packaged and sealed marijuana.
Aviles is charged with first-degree assault and possession of a controlled substance with intent to deliver.
Barajas is charged with first-degree assault, possession of a stolen firearm and possession of controlled substance with intent to deliver.
Thorsen didn't know why there was no attempted murder charge. He could only guess that was because Thorsen wasn't hit, thanks to his car.
The suspects shot it up pretty well, but Thorsen was on the opposite side of the fire.
"They came really close, but they didn't hit him," Thorsen said.
He added that, during the arrest, troopers learned that one of Thorsen's five rounds of return fire hit Aviles in the arm.
The two suspects made their preliminary appearances in Yakima County Superior Court Friday afternoon.