Friday, October 27, 2017
/lk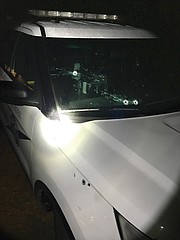 YAKIMA — Two Lower Yakima Valley men were in jail overnight awaiting charges in connection with the attempted shooting of a Washington State Patrol trooper Monday night.
According to Capt. Monica Alexander, the men believed to have opened fire on a trooper are Manuel Jovanni Aviles, 18, of Mabton; and Felipe Cortes-Barajas, 39, of Grandview.
The two were arrested yesterday morning in Adams County, but Alexander didn't disclose the location or what led authorities there.
"The WSP wants to thank the public for providing information that was essential in capturing these two armed and dangerous men," Alexander said.
Aviles and Cortes-Barajas were transported to Yakima and booked into the county jail. Records show Aviles is being held on $500,000 bail for first-degree assault and possession of a controlled substance with intent to deliver. Cortes-Barajas is being held without bail on probable charges of first-degree unlawful possession of a firearm, first-degree assault, possession of a stolen firearm and possession of a controlled substance with intent to deliver.
The men have been on the lam since Monday night following a high-speed chase and shootout.
The incident began at 9:08 p.m. on state Highway 241, near Alexander Road just south of Sunnyside.
An attempted traffic stop for speeding turned into a six minute chase that reached speeds in excess of 100 mph, the patrol said.
The men led Trooper Dawson through the rural area, ultimately pulling into the driveway of 3830 Forsell Drive, Grandview. The men jumped out of their vehicle and opened fire on the pursuing trooper, who then returned fire, the patrol said.
Multiple shots struck the trooper's SUV, including the windshield, front quarter-panel and an in-vehicle computer.
As Dawson returned fire, the men fled.
Dawson called for backup. Initially, Dawson and arriving officers thought the suspects had holed up in a barn or house on the property.
The residents of that address were evacuated safely and troopers were joined by multiple law enforcement agencies including Union Gap, Yakima, Sunnyside, Pasco, Zillah and others.
They set up a perimeter that extended from Forsell north to Tear Road, and from Sunnyside-Mabton Road east to Waneta Road.
Tactical teams used concussion grenades and a negotiator with a megaphone tried to coax the suspects out of hiding.
At least three armored vehicles were called in.
A responding K-9 unit tracked the suspects to a shop on the back of the property. A remote-controlled robot was sent in, but no one was found — the men had slipped through the dragnet and disappeared into the night.
On Wednesday, a Mabton house was surrounded on Vance Road, but authorities abruptly abandoned the efforts there and left. It was unclear if authorities had information that connected Aviles to that home.
Investigators have yet to say what led them from the Mabton-Grandview area to Adams County.
Detectives are continuing their investigation into the incident. Anyone with additional information is asked to call 509-249-6700.