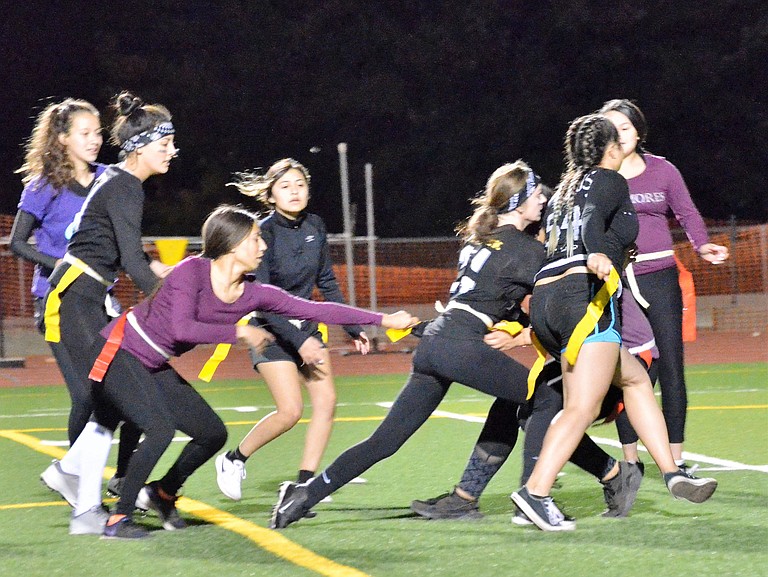 Thursday, October 5, 2017
/lk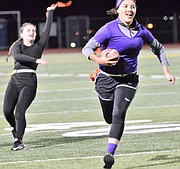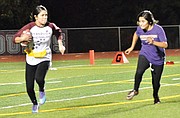 GRANDVIEW — Two of three schools celebrating homecoming week were giving the girls a chance to show their power on the gridiron last night.
Grandview High School's Rich Leenhouts Stadium was a battleground for the girls taking part in the Powder Puff game last night.
The sophomores prevailed over the juniors in the first game after several overtime periods, giving the class of 2020 a chance to compete for bragging rights against the class of 2018.
The teams were scoreless at the end of 20 minutes of regulation.
Officials decided they would try a Kansas City Tiebreaker in the first overtime, but the scoreboard was still blank.
The second overtime gave each team a chance to score on four downs from the 10-yard line.
Liliana Zepeda carried the ball over the goal line for the class of 2019, but the class of 2020 answered with a TD on the fourth down by Tamara Marquez.
Officials decided to try to end the stalemate, giving each team a down from the 3-yard line.
The juniors took first possession and were unsuccessful.
The sophomores took over, but the juniors pulled the flag of the ball carrier before she could cross the goal line.
Officials tossed a coin for the next possession, and the class of 2020 won. Encroachment was called on the juniors, giving the sophomores a second chance at the 1-yard line. A false start on the offense backed them up and the quarterback threw an incomplete pass.
The juniors took over and were intercepted in the end zone, giving the sophomores another chance to punch it in.
After another penalty and a bad snap, the juniors took over AGAIN.
It was another four sudden death chances before sophomore Andrea Laurean carried the ball into the end zone for the win.
The drama continued in the "championship game," as the sophomores scored first, but the lights went out with 3 minutes in the first half.
In spite of the break and a chance to regroup, the seniors were unable to break the plain.
The sophomores reign... for now.