Wednesday, October 4, 2017
/lk
OLD-TIMER'S VIEW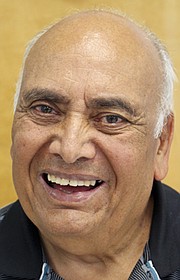 A nice lady called Monday to tell me she was "disappointed" to see a story of the death of Tom Paul on the front page of the paper. She left her message on my voicemail.
In all my years in this business, she is the first person I've ever called back after a criticism. I did it because her message seemed more like a question.
She was very kind and allowed me to express my thoughts. Then she said I should write about them, which I was already planning.
I don't know how other editors make their decisions on stories, but one of the factors I consider when someone dies is where he or she stood in the public view.
Whether he wanted or not, Tom Paul put himself clearly among the most interesting people in our world. He had something to say and he said it. He had something to do and did it.
Some of the things Tom said or did got him onto the front page of the newspaper, and not just here. He was written about in other papers, and he was the subject of morning coffees and afternoon happy hours.
Some people disliked him and his views. Some liked him. Many admired him. Everybody knew him or knew of him.
Count me among the admirers.
I never met Tom, but I enjoyed reading the messages on his billboard. I agreed with nearly all of them, and many made me chuckle.
Truth is, I saw Tom living the life the founders of this country intended. He did not bow to kings. Worldly kings, that is.
Except for my brother and a few friends, acquaintances and Ben Snipes, Tom was the only Sunnysider I knew something about.
I was working in the Toppenish-Yakima area in those days. I often came to Sunnyside because all the lower valley newspapers were printed here.
The first time I came up First Street and looked for his billboard, I missed it. I found it on my way out of town, but I couldn't read it in my sideview mirror.
I didn't miss the billboard after that. I often told myself I should meet the guy, but he really wasn't part of my news scene.
Mostly, I admired Tom's courage. No matter what his detractors said, he held his ground. To me, his greatest moment was when he took on the city in court.
Most of us, when we're admonished by the government for anything, will slump, go home and obey. Not Tom, he took his rights as an American seriously, and exercised them.
I had a feeling he would eventually lose his battle with the city, but I was one of those people saying: "You go Tom Paul." He did what most of us said we'd do, but never did.
I felt a bit of sadness when Tom Paul died.
After starting work here in July, I realized I would have the opportunity to meet him. I waited just a bit too long.
Tom deserved to be on the front page, not because he took his own life, but because he put himself on the front page.
For many, it's difficult to see things this way — he is their loved one, and their hearts are broken.
Believe me, I meant no harm to anyone, and I offer my apologies to those who were offended. And I offer my condolences to his family and friends.
I've dealt with many deaths in my family.
I've had relatives take their own lives, one was murdered, and my own 15-year-old daughter died in a car crash. I asked why, and the only answer I could come up with was that death is a part of having lived.
Tom Paul lived. He lived a front-page life. If he deserved the front page in life, then he deserved it in death.
I hope that, as time heals the wounds of sorrow, others will understand.
— Ted Escobar is the managing editor of The Daily Sun. Email him at tescobar@dailysunnews.com.