Wednesday, October 4, 2017
/lk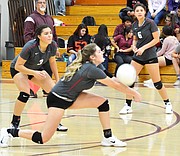 The Greyhounds volleyball team lost in three last night.
They gave Ellensburg a fight, particularly in the second set.
The first set went the Bulldogs' way, 25-13, after a few good rallies.
In the second set, the teams had to play to 29 before the visitors prevailed with a 2-point win.
The third set wasn't as closely contested as Ellensburg took the lead and held on for a 25-16 win.
Leading the Greyhounds with 17 digs and 4 kills was Cassidy Eucker. Teammate Bailey Duis dropped deep for 12 digs and at the net, had 9 kills.
Sunnyside Christian 3, Yakama Tribal 0
The Knights continue proving they are a tough team to beat.
They defeated the Eagles in Toppenish, 25-11, 25-17, 25-10.
Alyssa Martin was 15-16 at the service line with 5 aces, 9 assists and 7 digs; Destiny Fonseca provided 7 assists; Emily Banks was 16-16 serving with 6 aces, 5 kills and 2 blocks; Emily Broersma had 3 kills; Krista den Hoed led with 25-25 serving, 14 aces, 3 kills and 5 digs; Madi Candanoza had 8 perfect passes and 4 digs; and Sailor Liefke had 5 kills.
"Krista's serving is spot on — she knows how to thread it," Knights coach Laura Eisinga said.
Moses Lake 3, Sunnyside 0
The Grizzlies faced another tough opponent, losing a hard fought battle in the first set, 23-25.
After losing six serves, the Grizzlies battled back to take the lead. They were deadlocked at 23 when the Chiefs took over for the win.
They lost the next two with waning energy and Moses Lake had a couple strong servers, Sunnyside Jamie Palmer said.
Leading with 6 kills was Miriam Galvan; Jessica Appleby had 5 kills and Kiana Hellner-Gomez had 15 assists.