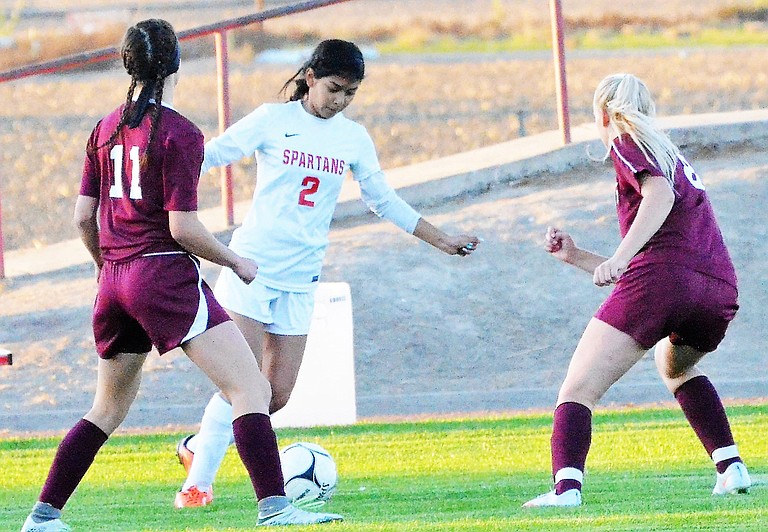 Wednesday, October 4, 2017
/lk
GRANGER — It was a difficult night for Lower Yakima Valley teams taking to the pitch.
Granger lost 0-6 to visiting Cle Elum, Prosser lost 0-3 to host Selah; Sunnyside lost 0-4 to host Moses Lake; and Mabton lost 0-5 to host Wahluke.
Grandview's score against visiting Othello was not available as of press time.
Cle Elum 6, Granger 0
The Spartans worked hard to shut down the attack by the Warriors, but fell short.
"They were aggressive, they moved the ball really well and we were beat by their speed," Granger coach Stephanie King said.
The Warriors scored in the 5th, 16th, 19th, 23rd and 25th minute to have an 5-0 advantage at the half.
The last goal was in the 68th minute, King said.
She said there was a conversation about her players' difficulty with the speed of Cle Elum's during the intermission.
"We spread out to help the defense in the second half," King said.
The strategy worked, keeping the visitors to the one goal.
Spartans keeper Jasmin Rodriguez recorded 9 saves, while defending 15 scoring attempts from the Warriors.
Cle Elum keeper Marisa Del Gaizo shut the door on the goal on each of Granger's 5 scoring attempts.
Prosser 0, Selah 3
The Mustangs were busy playing defense again.
The Vikings attacked the goal 15 times, giving keeper Josie Williams a work out.
She kept 12 shots from making it past the crossbars, but 3 slipped through — 2 in the first half and 1 in the second 40 minutes of action.
Prosser had trouble gaining momentum on the attack, getting the ball close to the goal box just one time and being shut out by Vikings' keeper McKenna Meyers.
Sunnyside 0, Moses Lake 4
Grizzlies coach Elizabeth Garcia did not provide statistics to The Daily Sun as of press time.
Mabton 0, Wahluke 5
Vikings coach Junior Garcia did not provide statistics as of press time.