Tuesday, October 3, 2017
/lk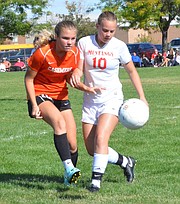 PROSSER — Mustangs soccer coach Ricky Ruiz is glad Saturday's match against Cashmere was non-league. The 2A Prosser girls soccer team lost, 7-1, to the 1A Bulldogs.
"We just wanted the girls to play without getting injured," Ruiz said.
The Bulldogs kept control of the ball nearly all 80 minutes, making Mustangs keeper Josie Williams nervous in the goal box.
She had 10 saves; her counterpart had only one opportunity to deny Prosser.
But, the Mustangs made the best of that one scoring opportunity as Delaney Andujo capitalized on a pass from Meagan Inions to score the team's only goal in the second half of action.
In the first half, Cashmere's Aimie Martin, Chloe Diaz and Dani Monore each scored to take a 3-0 lead.
Diaz made it a hat trick with two more goals in the second half, and teammate Grace Erbmann also hit the back of the net twice.
"It was an off day," Ruiz said, speaking of the uncharacteristic style of play by the Mustangs.