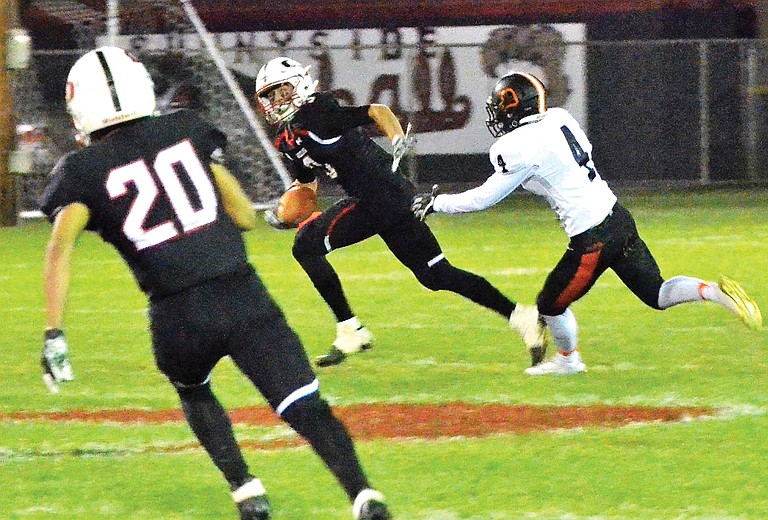 Monday, October 2, 2017
/lk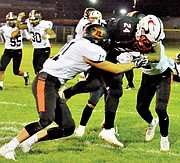 SUNNYSIDE — To say the Grizzlies know how to work as a team would be mildly stating the facts.
Sunnyside defeated the Davis Pirates, 47-10.
The offensive line once again made playing football look as if it is the most natural thing for them to do. All the hard work and practice the past two years paid off in a big way, giving the quarterbacks, running backs and receivers room to move and make the plays.
Running back Derrick Escamilla capitalized in a big way, carrying the ball 9 times for 174 yards and 2 TDs as the leading running back in the Columbia Basin Big 9, Myles Alvarez, watched from the side lines.
The receivers, Nate Maltos and Mike Rivera, didn't make haste either. When called upon, the pair came up big. Maltos had a TD on an 88-yard return. He captured 6 bombs for 89 yards and a TD. Rivera had two TDs, as well. He had 3 catches for 109 yards.
Another 10 yards were gained by a catch by Kaden Rasmussen.
Nic Ervin threw the ball for two of the TDs. He completed 7-of-11 passes for 150 yards and was intercepted once. Ethan Montelongo completed 4-of-6 passes for 52 yards and a TD.
"Both quarterbacks played really well and made good decisions," Lobbestael said.
All told, the Grizzlies had 202 passing yards on 11 completions, and 260 yards on 33 carries.
Contributing to the rushing was Marcus with 3 carries for 12 yards and a TD; Arturo Fernandez with a 24-yard run; Daniel Huizar with 6 carries and 22 yards; Eddy Davila with 4 carries for 18 yards; Rudy Mindieta with 3 carries for 12 yards; and Ventura Rodriguez with 3 carries for 3 yards.
Alex Mendez played his part, kicking the ball between the goal posts 6-of-7 times.
"The offensive line and defensive line carried the team," Sunnyside coach John Lobbestael said.
The defense shined, holding the Pirates to just 30 rushing yards and 147 yards on the pass.
The Pirates had 10 total catches for short gains. When they got near the goal line in the second quarter, the Grizzlies defense stuffed the offensive attack, leaving Davis to score a field goal.
The lone TD for the Pirates came in the final stanza. Von Photisane collected on a 24-yard pass from Angel Amezola, who completed 10-of-26 passing attempts.
Sunnyside's Andrew Gallagher picked off one of Amezola's passes, helping boost the defense's determination.
Lobbestael was pleased to see many of his players contribute to the win.
He isn't willing to let the team stand on its laurels. The coach is a firm believer that each game must be approached with hard work on the practice field.
The Grizzlies will this week work toward the goal of defeating 2-0, 3-1 West Valley (Yakima). Friday's game will be played on the Rams' home turf.