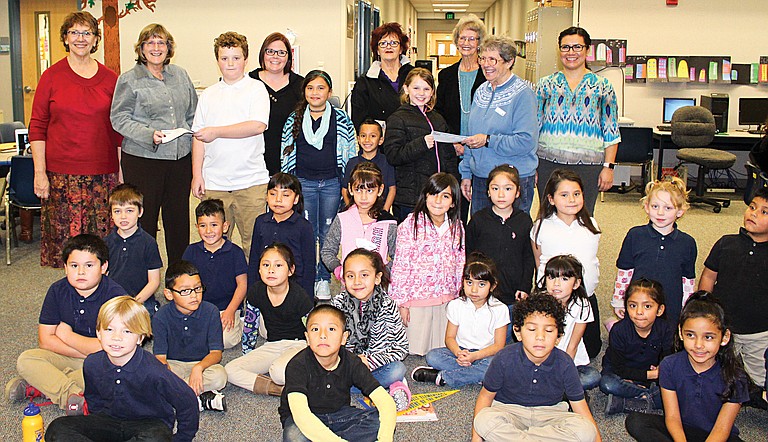 Thursday, November 30, 2017
/lk
GRANGER — The children's penny banks are empty, but all for a good cause. The Roosevelt Elementary School students launched a drive earlier this month in support of the community's Splash Park.
The youngsters raised $660, and an anonymous donor brought the total up to $700 to be donated to the Friends of Granger and the Granger Splash Park Committee, teacher Kelly Martin- Carter said.
She said her students in Talented and Gifted Students, a highly capable class, annually pick a community service project to support and this year, they decided on the community water feature, she said.
The money was presented to the two committees, who will combine the money into the ongoing fundraising drive to complete the park, just as school gets out next spring, Splash Park Committee spokesperson Jo Klarich said.
"We just ordered $60,000 in water park materials and we are hoping to get the cement poured soon, if the weather holds," "Helen Dodd of the committee said.
She said the park will be in the community's downtown park.
"For years the Granger Pool Committee has raised money to replace the old city pool. Recently the committee decided to change its focus and work on a splash park.
"A splash park will provide a fantastic place for our children to stay cool in the summer," she said.
Friends of Granger spokesperson Janet Wheaton said the committee is excited to see the children doing their part to help with the fund raising. The Friends was organized to help children and families in need in the community and the pool will make a positive impact on the community.
For fourth grader Corrina Slade, there really was no other choice as to where the money should be spent.
"I can't wait to use the park, she said.
Slade and members of Martin-Carter's class, which included Sam Johnston, Melany Castro and Miangel Gonzalez helped to make the presentation Tuesday.
The presentation also included the Jan Golob's first grade class which collected more than $90 for the cause.
"As a result, they earn an extra recess for their generosity." Mrs. Golob said.
The cost for the entire splash project is $100,000 Dodd said.

The groups joined forces earlier this year.