Wednesday, November 29, 2017
/lk
OLD-TIMER'S VIEW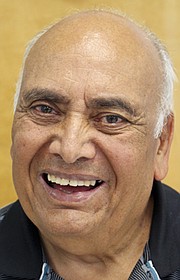 Pat and I were watching Hallmark Christmas movies last week as we celebrated Thanksgiving.
That girl (the lead actress) looks just like Connie Camp, I said.
I was surprised Pat didn't know Connie. She grew up in Granger during our time.
Yesterday, as I was going to my car. I glanced at the woman to whom our receptionist was attending, and she was familiar. I passed behind her, reached for the door, and she said: Ted?
I turned back.
"Know who I am?" she asked.
Yes — Camp.
"Yes," she said.
Connie, I said.
We chatted for a while near her vehicle before I went to mine. I learned her brother, my classmate D.J., had died at 73.
She laughed when I told her Pat and I had just spoken about her because of an actress.
"Was the actress pretty?" she asked.
Yes, I said.
"Well thank you," she said.
I didn't tell her the actress looked about 18.
I learned that Connie got cancer of the uterus and breast cancer in May of 2015. After immediate uterine surgery, her daughter and son went to Arkansas to bring her here for treatment.
Connie (now Fuller) is doing well now. She is smiling, laughing and back to her playing weight. She dropped from 220 to about 115 during the ordeal.
"If there is one good thing about cancer, it's that I got skinny again," she said.
"I have to thank my daughter," she added. "She's the one who saved me."
Doctors in Arkansas wanted to remove a breast, but Connie refused. Doctors in Tri-Cities agreed with her but are monitoring closely.
I also learned about Connie's wedding 52 years ago. She had a boyfriend at the time, but he was not Joe Fuller. She knew Joe as a family friend but really didn't know him personally.
He showed up one evening at Joey's Punkin Center Drive-In, where she was working and asked her for a date. She couldn't. What would her parents think?
Joe dashed to Sunnyside to speak with Connie's parents. He went back to Joey's at closing time. He told Connie her parents had approved her going out with him..
"He was gorgeous," she said. "He was James Dean, and he had a 1960 Corvette."
Connie and her James Dean drove to Grandview to get some pop.
"I was a ditsy blonde and couldn't make up my mind between orange and some other pop," she said. "So he bought me both."
Joe parked the car somewhere between Grandview and Granger, and the pair started talking.
"Nothing else," she said. "We just talked."
Joe said she was too young (18) to get married to her boyfriend.
"Are you saying you wouldn't marry me?" she asked.
Joe said he would and did. He picked her up the next morning at her parents' home. They went to Yakima for a ring, then to Sunnyside for her dress.
"I got this white suit, with blue on the collar and around the wrists," she said.
After six hours of knowing each other, off to Idaho, the pair went. On the way, Connie started to wonder if she was making a mistake. Fifty-two years later, she said, it was not a mistake.
"I used to go the Baptist Church across the street from the high school. I was in church all the time," she said. "One of things I prayed for was a good man. God answered my prayers. Joe is a good man."
"Would I recommend it?" she asked rhetorically. "I don't know, but it worked for me."