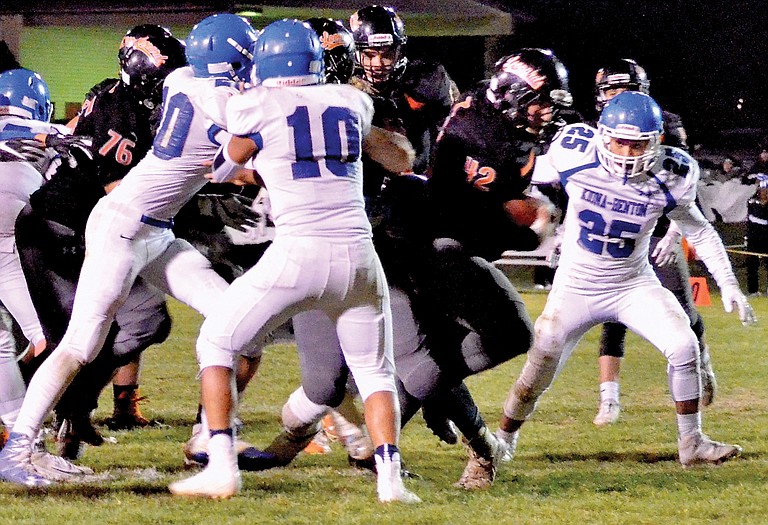 Monday, November 6, 2017
/lk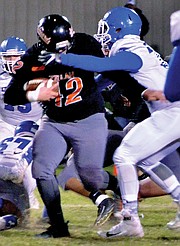 ZILLAH — The battle between the Leopards and Kiona-Benton Bears on Friday looked fierce.
The Bears came out looking as though it would be white-and-blue jerseys competing in the first round of 1A state playoffs, rather than Zillah's orange-and-black.
Kiona-Benton scored back-to-back touchdowns in the first quarter.
Alex Maya scored on a 2-yard scamper to start.
Zillah barely had their hands on the ball — fumbling on the punt return — before the Bears got it back and Daniel Rizin collected on a 14-yard pass from Leo Gomez.
Finally gaining ground, the Leopards settled down and began inching their way toward the goal line later in the first quarter.
When they got within the red zone, Drew Van Kemseke threw a 14-yard pass and Sebastian Godina hauled it in as two Bears surrounded him.
The Leopards were patient on their next drive and kept their own pace, getting within distance again before the first quarter ended, 14-7.
They took the same position on the other end of the field and two plays into the second stanza, Brian Calhoun dragged the defense with him as he crossed the goal line to make it a 13-14 game.
With the momentum in their favor, the Leopards kept the scoring going.
They ended the first half 24-20.
Eric Greene scored a TD on a 40-yard pass, and Pablo Medina added a field goal to the board.
Scoring the only TD in the second quarter for the Bears was Rizin on a 5-yard pass.
In the third quarter, Zillah's Isaac Vargas scored on a 5-yard run and Payton Whitaker capitalized on a 33-yard pass.
Gomez scored on an 11-yard run for the Bears.
The Leopards ended the third with a 38-28 lead and continued to dominate the final stanza with three more TDs.
Cody Vance scored on a 99-yard interception return, Calhoun scored on a 6-yard run and Whitaker ran across the goal line on a 5-yard run.
Kiona-Benton's lone TD was scored by Maya on a 39-yard pass.