Monday, November 6, 2017
/lk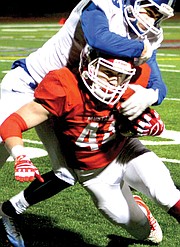 GRANDVIEW — For the second year-in-a-row, Pullman upset Prosser's hopes of competing in the 2A State playoffs with a 1-point win.
The Greyhounds defeated the Mustangs, 31-30, at Rich Leenhouts Stadium in a Central Washington Athletic Conference-Great Northern League crossover game Friday.
The teams battled through regulation. They were scoreless at the end of the first and tied 3-3 at halftime.
The Mustangs took the lead, outscoring the Greyhounds 14-7 in the third stanza for a score of 17-10.
But, Pullman didn't give up, tying the game 24-24 in the fourth stanza.
That put the teams in an overtime situation. Pullman scored on the first possession for a 31-24 lead, and J.R. Coleman of the Mustangs answered with a touchdown.
Prosser gambled on a 2-point conversion attempt in the Kansas City Tiebreak and lost.
Coleman led the Mustangs with 25 carries for 121 yards. Kord Tuttle had 15 totes for 79 yards, and Logan Candanoza had a 4-yard carry.
Will Weinmann completed 10-of-24 passes for 107 yards and 3 interceptions.
Jordan Garcia had 4 catches for 39 yards; Haden Hicks hauled in 3 passes for 40 yards; Chase Courtney had a 21-yard catch; Levi VerMulm caught a 4-yard pass; and Tyler Durbin collected a 3-yard pass.