Friday, November 3, 2017
/lk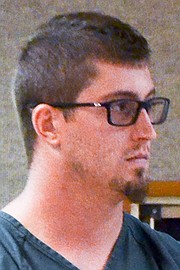 YAKIMA — The case against a former Grandview High School physical education teacher and track coach charged with exploiting a minor and three other charges was continued again last Friday.
Zachary Joseph Sybouts, 27, was in court for a trial confirmation hearing. Yakima County Superior Court Judge Kevin S. Naught agreed to continue the case.
In August, Judge Gayle Harthcock struck a plea and sentencing hearing from the docket, setting a trial confirmation.
The case has been continued twice since then, and court records show another plea and sentencing hearing is set for Nov. 17.
If a plea agreement is not reached, Sybouts may face trial Dec. 4, given there are no further continuances.
Sybouts has been charged with sexual exploitation of a minor, communicating with a minor for immoral purposes and possession of depictions of a minor engaged in sexually explicit conduct.
The investigation started a month prior to Sybouts' arrest in May 2016.
The investigation led police to three victims who were students at Grandview High School. They included two 16-year-olds and a girl who turned 18 when the case was investigated.
Documents show Sybouts was warned about contacting students via his personal cell phone, but continued to do so.
He is accused of sending photos of his naked genitals and texting inappropriate messages to the girls.
Sybouts is the second teacher in the Lower Yakima Valley accused of abusing his position as an educator.
Tuesday, former Granger teacher Stephen Jeffrey Castilleja, 28, of Prosser was sentenced to 27 years in federal prison on four counts of production of child pornography by Senior U.S. District Judge Edward F. Shea.