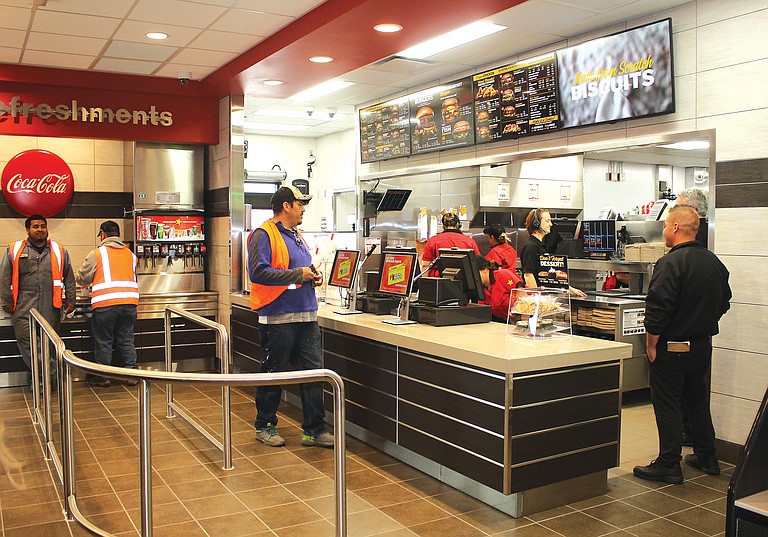 PROSSER — A new 24-hour travel stop and restaurant opened yesterday morning with little fanfare.
Yet, by 10:30 a.m. the new Love's Travel Stop was hopping with customers purchasing fuel, snacks, drinks and eating lunch.
"We're open," General Manager Curt Butterfield said.
The fuel pumps and convenience store officially opened at 7 a.m., he said. A Carl's Jr. restaurant, housed in the complex at the intersection of Gap Road and Wine Country Road, opened at 10:30 a.m.
"We're going to be busy," Butterfield said, noting the new travel center already has 40 restaurant and 20 store employees.
Combined with the management staff, a June opening of a new truck tire and repair center and the July opening of the new 75-room Holiday Inn Express, more than 80 new jobs have been created in Prosser.
"Prosser is an ideal location for Love's," owner and CEO Tom Love said. "We look forward to serving members of the Prosser community and leisure travelers and providing them with the 'Clean Places, Friendly Faces' Love's is known for."
Butterfield said Love's will be active in the community and will officially mark its grand opening on June 8. A time has yet to be scheduled.
The ceremony will include a ribbon cutting and a donation to the Prosser School District, Butterfield said, adding Love's will give the Mustangs $2,000.
The travel stop will be open 24 hours a day, 365 days a week, Butterfield said. "And we're going to be very competitive on fuel prices," he said.
The 11,000-square foot site also features gourmet coffee, fresh fruit, gifts, truck and travel supplies, seven showers and parking for 66 tractor-trailers.
Love's operates similar travel centers in Eastern Washington in Ritzville and Ellensburg, and in Eastern Oregon in Boardman.