Wednesday, May 24, 2017
/lk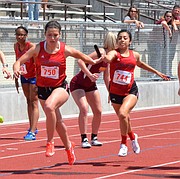 YAKIMA — Two relay teams and two individuals from Sunnyside High School are set to compete in the 4A state track and field championships at Mt. Tahoma High School in Tacoma.
The girls 4x200 relay team — Jessica Linde, Janessa Frank, Dallas Borrego and Sierra Cavazos — qualified after winning Saturday's District 6 championship title at Zaepfel Stadium. The four combined efforts to finish in 1:45.48.
Eastmont was second in 1:46.27.
Linde qualified for the state meet in two other events. She won the 300-meter hurdles event in 45.09, a personal record. She was second in the 200-meters race, clocking a personal record of 25.72.
Linde's 200-meters time was one-tenth of a second behind the state standard, 25.65.
Skylar Walton of Wenatchee won the race, finishing in a season record time of 25.31.
Olivia Rickey of West Valley (Yakima) was runner-up to Linde in the 300-meter hurdles, clocking a time of 46.78, a personal record.
The state qualifying time was 45.34.
Nathon Maltos and the boys 4x400 relay team also qualified for the state meet.
Maltos combined efforts with Griffey Sarmiento, Xavier Estrada and Uriel Diaz to clock a second-place time of 3:28.51 in the relay.
Eastmont won the race in 3:25.40.
Maltos also qualified in the 200-meters race. He was not a Top 2 finisher in the race, but his personal record of 22.27 was faster than the state standard of 22.58.
Jake Ulrich and Quintin Porterfield finished ahead of Maltos, clocking times of 22.06 and 22.19, respectively. Porterfield's time was a personal record.
Wenatchee's girls team won the District 6 team title with 189 points. Eastmont was second with 131 points. Sunnyside was seventh, garnering 48 points.
In boys scoring, Eisenhower won the title with 226 points. Eastmont was second with 134, and Sunnyside was fifth with 48 points.
The state championships begins today at 3 p.m. with the 4A girls javelin.