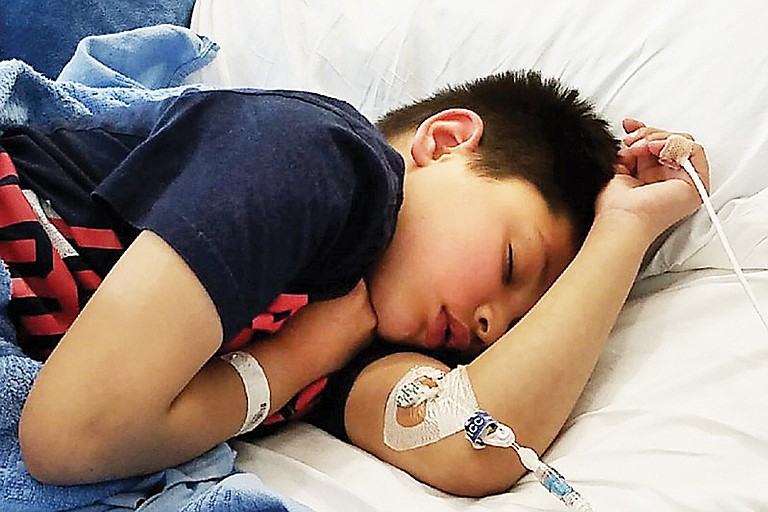 Wednesday, May 17, 2017
/lk
The community is responding quickly to one of their own in need.
In only 12 hours, a GoFundMe.com account for youngster Nathaniel Wood has received $1,225 in donations. The goal is $15,000.
Wood, 9, a fourth-grader at Chief Kamiakin Elementary School, is very ill at Children's Hospital in Seattle.
You could say the Sunnyside Little Grapplers wrestler is in the fight of his life.
According to his father, Steve "Woody" Wood, Nathaniel was diagnosed with Severe Aplastic Anemia on April 24.
His bone marrow is not producing red or white cells or platelets. His body can't fight off infections, and he can't be at school with his friends.
"We're going to be here 3-6 months," Woody said.
According to Nathaniel's aunt Connie, who organized the GoFundMe page, Nathaniel was unable to walk and had limited movement in his left hand on the morning on April 21.
His parents, Woody and Isabel, rushed him to Sunnyside Community Hospital at about 7:30 a.m. After some testing, he was airlifted to Children's at about 10:30 a.m.
"He was immediately given platelets and a blood transfusion and was getting his blood drawn multiple times for testing," Connie said.
A few days later, the Woods and the extended family got the news that Nathaniel has a rare blood disease, Severe Aplastic Anemia (SAA).
The odds of having it are one in a million, Woody said, noting his son took the news like a champ.
His concern is getting back to school and his friends, especially those he wrestles with on the Little Grapplers team.
Not so with Woody and Isabel.
The news was shocking.
They are in fighting mode now, just like Nathaniel, but they're still dealing with shock.
Woody said he and Isabel were very uneasy until May 11, when doctors explained the plan of attack – the treatment plan.
"The goal is to get the bone marrow producing again," Wood said. "If not, he'll need a bone marrow transplant."
Aunt Connie has already had her son, Elijah, tested for the possibility of being a bone marrow match.
"Unfortunately, he was not, and our family was devastated," she said.
Nathaniel has not been to school since the week after spring break.
He misses his teachers and friends at Chief Kamiakin Elementary.
"Nathaniel loves to run and play outside, ride bikes and especially loves to play sports," Woody said.
Nathaniel has wrestled, and played football for Sunnyside Grid Kids and baseball for Sunnyside Cal Ripken Minors 3.
Nathaniel was admitted to Seattle Children's Hospital on May 11 to begin immunosuppressive therapy with chemotherapy.
His immune system will be compromised, and he can't be around many people.
The Woods will be staying in the Seattle area close to the hospital so Nathaniel can receive his transfusions and have his medications and blood counts.
Woody and Isabel are going to go through a real tough time. Both are taking time from work.
He is a bus driver for the Sunnyside School District. She is a locksmith with the Lock Shop.
"They are in need of your help, not only spiritually with your prayers but also financially to help out with Nathaniel's medical bills," aunt Connie said.
You can make a donation by going to gofundme.com. and searching for: Nathaniel W. fight against SAA.
You can also find the page by typing in the address bar gf.me/u/eea46.
"We have insurance, but it doesn't cover everything," Woody said. "We'll have to pay a lot out of pocket, and we'll have living expenses. I have no idea what a helicopter and two ambulances cost."