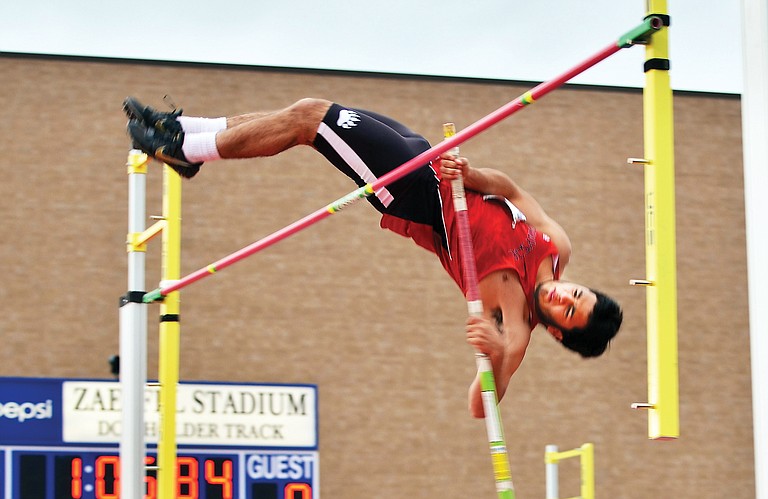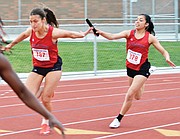 YAKIMA — Teams in the Big 9 conference competed in the Inter-City Championships at Zaepfel Field yesterday.
Sunnyside had four first-place finishes at the meet, including two from Jessica Linde.
She was first in the 200 meters race, clocking 26.53. Teammate Lilian Froese-Raihl was eighth in 28.89, good for a personal record.
Linde also won the 300-meter hurdles event in 45.90. She was third in the 100-meter hurdles after being clipped by a competitor, clocking 16.33.
Linde combined her speed with that of Janessa Frank, Sierra Cavazos and Dallas Borrego in the 4x100 relay as the trailing leg. The four finished in 50.38.
Frank was second in the 400-meter race, clocking 1:03.07, a season record. Froese-Raihl was seventh, crossing the finish in 1:05.62.
Borrego was third in the 100- and 800-meter races. She raced to the finish in 13.14 in the first event — a personal record — and 2:33.04 in the second.
Alexis Garcia of the Grizzlies was second in the shot put with a throw of 111-08, a personal record.
A third-place time of 10:50.35 was garnered by Kameron Rodriguez. It was a personal record for the freshman.
In the boys events, the 4x400 relay team — Nathon Maltos, Griffey Sarmiento, Xavier Estrada and Uriel Diaz — won with a time of 3:29.37.
Griffey Sarmiento was second in the 300-meter hurdles, clocking 43.16, a personal record.
The 4x100 relay also garnered a second-place finish in 44.36. Names were not provided.
Maltos was third in the 100-meter dash, clocking 11.14, a personal record.
In the 2K steeplechase event, Sunnyside's Fernando Gudino clocked a time of 9:07.24, a personal record good for third place.
There were fourth-place finishes Diaz and Myles Alvarez. Diaz was fourth in the 200-meter race, and Alvarez was fourth in the long jump.
Granger
The Spartans were at Highland High School for the South Central Athletic Conference-West sub-district meet.
Seniors Mayu Molina and Matthew Cumpston each garnered first-place in their individual events. Molina won the javelin with a throw of 113-4, and Cumpston won the shot put with a distance of 44-01.00.
Eric Ang was second in the 800-meter race, clocking 2:10.49, Keanu Cantu garnered third in the 100-meter dash with a time of 12.17, Alfonso Price was third in the 1600-meters race in 4:50.73, Cumpston earned third in the discus with a throw of 120-00 and Cantu was third in the javelin with a throw of 121-00.
The 4x400 team — Bryan Vasquez, Jonathan Ornales, Aaron Cardoza and Ang — combined for a third-place finish of 3:53.12.