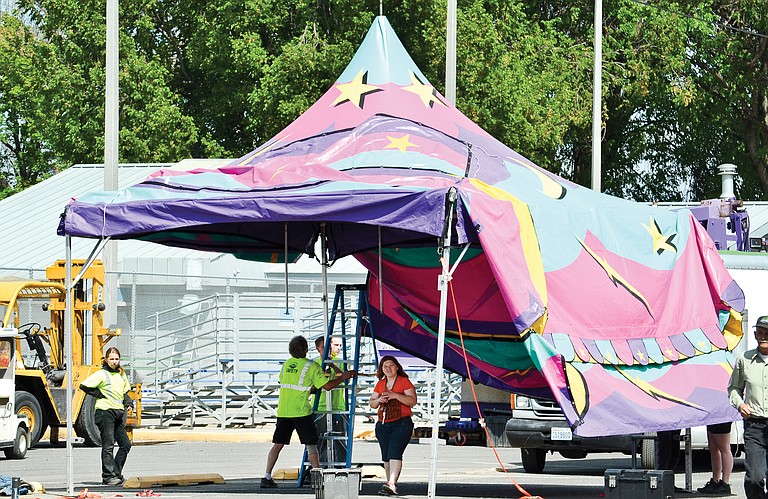 Wednesday, May 3, 2017
/lk
Event kicks off with street fair at noon
Here's a quick look at the schedule:
Friday
• Noon: - Street fair opens
• 3 p.m. - The Rainier Amusements carnival opens.
•7 p.m. -Tejano music.
Saturday
•11 a.m. - Street fair vendors open
•11 a.m. - The Regal Majesty Miss Cinco de Mayo Pageant at Centennial Square bandstand.
• Noon - Carnival opens
• 2 p.m. - Eating contest at the bandstand (water melon, mango and jalapenos)
• 3 p.m. Banda Plebilloz
• 4 p.m. Semic dance group with SHS Mariachi
• 5 p.m. Jossue y Su Imperio
• 6 p.m. FG3 De La Sierra
•7 p.m. Andy Ayala
• 8 p.m. Los Potrillos de Juan Carillo
Sunday
• Noon - Parade with Grand marshals Police Officer Melissa Rivas and Fire Captain Tony Castillo.
•1 p.m. Panda Bear Dancers on bandstand
• 1 p.m. Charro horse contest begins in Central Park.
• 2 p.m. Los Nuevos Coyotes
• 3 p.m. Heath con su Inizzio Norteno
• 4 p.m. Suenatron
• 6 p.m. Helen Ochoa
• 7 p.m. Adriel Favela.
SUNNYSIDE — It's Cinco de Mayo time!
The streets will be filled with families visiting the myriad of tantalizing Hispanic food booths.
The air will be filled with both mariachi and Tejano music all weekend, say organizers.
Without an official Sunnyside Chamber of Commerce to organize the community's biggest celebration, things seem to be moving along smoothly, City Manager Don Day said.
The only change to a previously announced weekend schedule is the last-minute cancellation of a youth wrestling tournament.
"We just didn't get enough applications to begin making divisions," A&A Productions LLC promoter Amy Rubio-Campos said Tuesday.
But even without the little wrestlers there will be plenty to see, do and taste at the festival that is billed as the largest Cinco de Mayo Festival in the Pacific Northwest.
According to city Mayor Jim Restucci, more than 20,000 people will visit the community during the three- day event.
Restucci is planning to take time to do his own bit of walking through the weekend street fair.
"This event is so rich with the traditional culture of many of our residents. I believe it is wonderful event for our community," Restucci said.
"Deleesa and I will be sampling many of the food at the street fair, including my favorite street food – funnel cakes," he said.
Day will be checking out the street fair and carnival with his grandchildren.
"I'm looking forward to the weekend. This is such a family-oriented event. I love seeing all the families and the smiles on all the children's faces," Day said.
The festival was previously organized by the now-defunct chamber.
This year, Amy and husband Roy Campos, who were selected to receive the city's Lodging Tax funding to host the event. Their years of experience behind the scene as volunteers made them the city's top choice to head the event this year.
"We have more than 130 vendors for the street fair," Rubio-Campos said.
"We received 100 applications for the parade and at least 86 Charro horses are coming for the dancing contests. More than 14 girls, ages 0 to 16, will vie for the Miss Cinco de Mayo title," she said.
Her husband, Roy Campos, previously worked with the chamber to help the "music talent" with sound checks and managed the sound system for all the weekend events, City Clerk Debra Estrada said.
Estrada, the former chamber executive director and co-chairwoman, said this year, the sound checks will be conducted for the talented Tejanos bands early Sunday morning.
Monday night, the City Council agreed to a noise variance that will allow bands to conduct sound checks at 7 a.m. Sunday in the Centennial Square bandstand.
Estrada said the sound checks will last until about 9 a.m. and will be heard up to about a half-mile radius.
She said organizers sought the early sound check to avoid crowds arriving for downtown vendors and activities.
She said the early sound check will ensure singers like Adriel Favela, Mexico's version of Justin Bieber, will have a good sound for his many fans.
The three-day Sunnyside Cinco de Mayo celebration has a 29-year history of providing great musical acts, colorful parades and a street fair offering amazing food and games.
Among those foods is the mouthwatering beef cooked on a giant vertical rod, with slices carved off for tacos al la Pepe Navarro or giant quesadillas made by his daughter-in -law, Miriam Navarro.
She is also regionally famous for her Tacos la Heradura, which are also amazing, say her fans.
But the food that local banker Francisco Guerrero of Hapo Credit Union is waiting to indulge in is Mexican corn on the cob, chilled with cream and cheese.
"I'm looking forward to that treat," he said. "I always think this weekend is going to be very exciting.
"We'll have the opportunity to visit with thousands of local and out-of-town people at our booth at the street fair," he said.
Rubio-Campos said she is very excited for the weekend.
"I think we're are going to have a great weekend and we have plenty of activities planned to keep people entertained."
The festival kicks off Friday at noon with the opening of the street fair vendors on South Sixth Street.
The carnival opens at 3 p.m. Friday and will close at 10 p.m. each night.