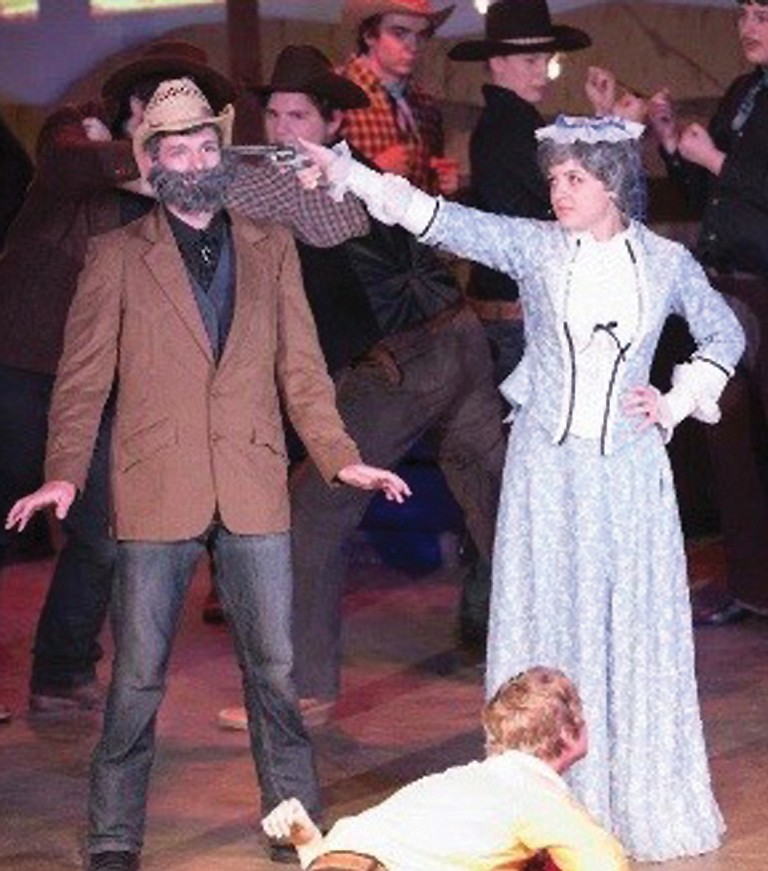 Wednesday, June 28, 2017
/lk
ZILLAH — Reigna (pronounced Rayna) Bower gave the role of Aunt Eller in the musical play Oklahoma everything she had, and it was good enough to win a 5th Avenue Award from the Seattle theater company of the same name.
"She certainly deserved it," Zillah High drama coach Lynn Brant said. "She not only did her part well on stage, but then would go back and help move sets between scenes – in a long dress."
Bower's award was for best actress in a supporting role. Sunnyside and Grandview had nominations. The full list of nominees and honorable mentions can be found on the 5th Avenue Theatre web site.
Sunnyside received a nomination for Lobby Display (Zombie Prom), an Honorable mention for Direction (Zombie Prom), Costume Design (Zombie Prom) and Lighting Design (Disney's the Little Mermaid).
Sunnyside also received an Educational Impact award for The Little Mermaid because of its elementary school performances and drama camp. Grandview received a nomination for ensemble cast for Hollywood Hillbillies.
This is the 15th year for the 5th Avenue Awards. It's a program in which schools of all sizes in Washington state can participate. Zillah has taken part since 2013.
The competition is tough. Zillah was one of two small schools that won one of the more than 20 awards this year.
"The neat thing about going for our kids is to get to see the entirety of a big hall like Benaroya Hall filled with kids that love performing musicals as much as they do," Brant said. "They get to see the vibrancy, quality, and energy of programs of all shapes and sizes. The energy in that room is palpable, let me tell you. We are so excited that we got one on stage this year."
Zillah applies in the fall when Brant knows the musical title. Other places do musicals in the fall. So the program coordinators send judges out to every show as they come up throughout the year.
"Our show was seen by at least two judges, and they take notes on a wide variety of aspects. They look for actors who sing well and have a strong presence on the stage, both of which Reigna had as Eller."
Bower graduated this year, but she was a Zillah High student only for the purposes of extracurricular activities. She was home-schooled.
Bower has no plan yet for her future. Her plan for summer is to work and save. Although she's been part of the Zillah drama program four years, she doesn't know if she'll continue acting or singing.
In Mary Poppins, Bower played small ensemble roles. In Shrek the Musical she played the ugly duckling (small solos), a dancer and a dragon puppeteer. She, the other puppeteers and the actress received an honorable mention.
Then in the play Don't Take it with You, Bower played Mrs. Kirby, and that role had quite a number of lines from her. The rest of the productions Bower was in, she was a tech and a stage hand.
"I was very surprised that I won," Bower said. "I'm not quite sure why I won, but I think I must have played the part in such a way that stuck with them till it came time to decide who was the winner.
Aunt Eller took a little getting used to, Eller said. She watched the Hugh Jackman version of Oklahoma several times and watched the actor doing Ella closely for information that would help.
"Like picking up on the small things she would do, like the way she walked, and put her hands on her hips, the way she moved and talked," Bower said. "Once I had that in my mind's eye, it was very easy for me to slip into the character of Aunt Eller. Even at home I would find myself standing and talking like her, saying: "what fer?