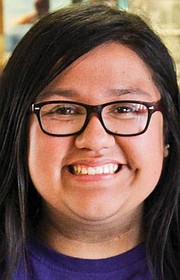 GRANDVIEW — Anyone who has meet Alondra Perez never fails to comment on her poise, confidence and maturity.
Maybe that comes from being the oldest of a houseful of siblings. Maybe, it is because of her own self-determination to make the world a better place.
Each of her mentors and instructors are amazed at her achievements, said Grandview School District spokespersons Elena Olmstead.
"They all say how amazing she is," Olmstead said.
And a brief look at her high school resume confirms her passion for both school academics and the community of school.
"I like challenges," the class of 2017 valedictorian said.
Perez' family moved to Grandview between her eighth and ninth grades from Tillamook, Ore, where "…I was a minority."
Arriving in Grandview High School, she quickly saw she was in the majority.
That made a big difference to the young woman, who quickly established her leadership.
She soon found herself involved with DECA, a high school marketing and business careers organization.
During her time at Grandview, she rose from club member to district DECA leadership. Perez adopted the DECA store revamping project got its name changed, amped up the menu and what it sells, including campus gear.
"Well not without the help of my advisor Brad Charvet and fellow DECA members," she said.
Charvet said the store project alone helped bring her to the attention of district and state DECA leaders. The project also earned her and her team a trip to DECA nationals. She also founded a school-wide service project know as Hounds Have Heart, which helps other students.
She volunteered at the Extra Mile Student Center, an after-school center, where she was mentored by Kathy and Gene Iwami and she, in turn, mentors other students.
Those experiences are part of the reason, Perez is now looking forward to attending UCLA in September, where she plans to double major in business management and international development.
"Everything is about marketing," she said.
For a little girl from Tillamook, she is the first person in her family to advance to college.
"Both my parents are high school graduates so education is important in my family. My mother graduated from a Salem, Ore., high school and my dad graduated from high school in Mexico.
"They are very excited for me and I'm excited too,"
Always a leader, she will lead her classmates on the field at 8 p.m. Saturday.