Thursday, June 8, 2017
/lk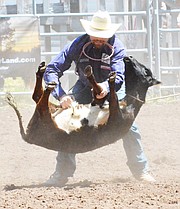 CLEVELAND — Cowboys, cowgirls and the little dudes and gals are planning to attend the 107th annual Alder Creek Pioneer Picnic and Rodeo at Cleveland Park this weekend.
Competitors will take part in the Northwest Pro Rodeo Association action Saturday and Sunday, beginning at 1 p.m. both days.
Hailed as Washington's oldest rodeo, the event is organized fun for people of all ages.
It's a weekend of visiting, an old-fashioned picnic, speeches and games.
Bickleton was one of the first communities in the region to host a rodeo to give the young men in the community a chance to burn off some steam.
Now, it is a chance for people to gather for fun and exciting rodeo action.
The action includes youth barrel racing, merchant cow milking, steer wrestling, saddle bronc riding, bareback riding, breakaway roping, team roping, tie-down roping and bullriding.
In addition to the rodeo, will be a kick-off celebration Friday at 5 p.m. with food and games, followed by a free dance.
The historic 1905 Hershell-Spillman carousel will be open Friday and visitors can enjoy free rides.
Food booths open again at 8 a.m. Saturday. The morning program is at 10 a.m. and the carousel opens at 11 a.m.
Following Saturday's rodeo will be a dance for those 21 and older with music by Miller Campbell.
Sunday's festivities begin at 8 a.m. with the food booths and slack competition.
An open air church service takes place at 9:30 a.m. and the dessert booth opens at 10 a.m.