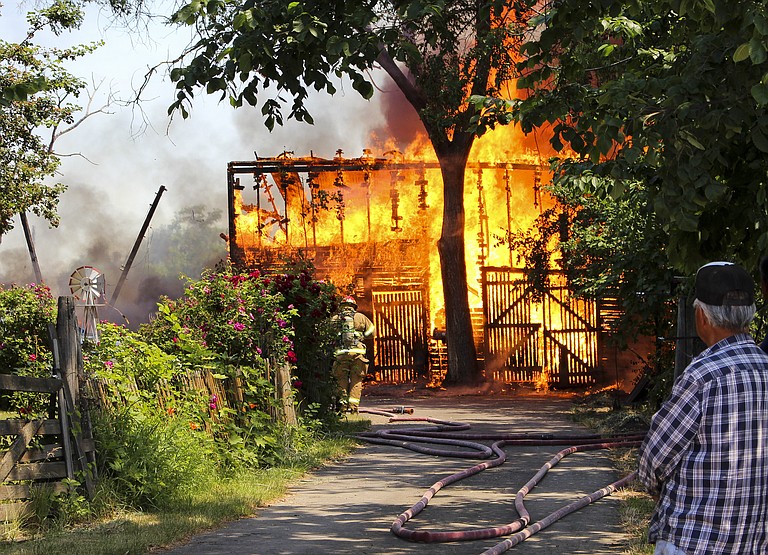 Wednesday, June 7, 2017
/lk
MABTON — A local man is temporarily out of his home after fire destroyed his barn, vehicles and some outbuildings yesterday.
Firefighters were able to save Clifford Butler's home at 428 Third Ave. However, it sustained some heat damage from the flames that began in his barn just before 1 p.m..
The cause of the blaze was not determined as of press time, nor was the dollar value of damages.
As Mabton firefighters attempted to contain the fire, onlookers heard what sounded like the explosion of live ammunition rounds, which caused firefighters to push the public further away from the scene.
Firefighters from Sunnyside, Grandview and Prosser arrived to lend support in containing the blaze, which threatened the residence and several other vehicles on the property.
Mabton police helped to close streets near the fire, allowing only fire trucks access to the Third Avenue blaze.
Butler was home alone when the fire started in the barn.
His daughter, Dara Hernandez, had stopped by to visit with her father and told him about the blaze.
"We were concerned the fire might spread to the house," she said.
But firefighters were able to protect the adjacent residence.
Unfortunately , the barn, a chicken coop and a smaller out building were destroyed in the fire.
And a number of old automobiles stored in the barn were lost, Hernandez said.
For the time being, Butler will be staying with his daughter until it is safe to return home.
Fire teams were on the scene for several hours to make sure the fire didn't start up again.
Officials reported no one was injured in the fire.