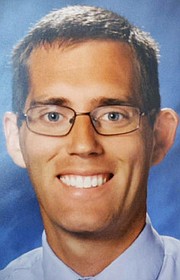 SUNNYSIDE — The Sunnyside High School cross country team will have a new coach in the fall.
If the School Board approves the recommendation, Jeffrey White will head the team.
He was the cross country coach for both Sierra Vista and Harrison middle schools last fall. He also coached the distance runners for the Grizzlies track and field team this past spring.
"I've always wanted to coach," White said. "My wife has always encouraged me."
White is married to Shaina White. The couple has three children, the youngest of whom is 2.
He has been teaching in the Sunnyside School District for the past 7 years, but didn't start coaching until last fall because he was focused on being a father.
The children are now old enough to interact with him even after hours spent at practice, White said explaining why he didn't take on a coaching role until this past school year.
"We can still spend quality time together," he said, referring to the waking hours for his children.
White said he's had conversations with former cross country coach George Paulus, who also coaches the Sunnyside High School boys wrestling team in the winter season.
"I have knowledge of the sport (cross country)," White said.
He has been a long time runner, competing in cross country and track at the collegiate level at Bucknell and Southern Virginia universities.
"Great things have happened to me on the track... it's how I met my wife," White said, explaining his wife was also a distance runner at Southern Virginia University.
Looking forward, White said the Grizzlies have a good group of returning athletes who will be training in the summer months.
Dallas Borrego is a front runner, he said. The cross country and track athlete competed at state in both sports.
"We have new freshmen girls who are promising," White said.
He also belives there are a few boys who have a lot of potential.