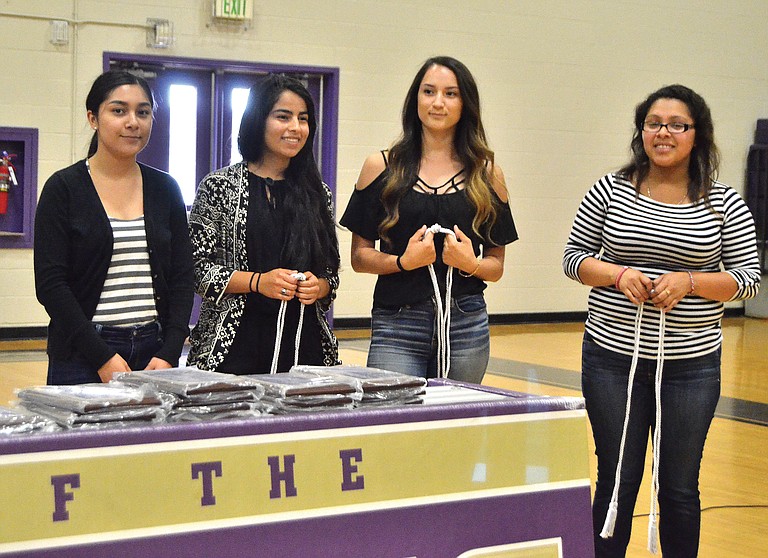 MABTON — It was an evening of celebrating the high school's Mabton High School scholars and athletes.
At the school's annual awards banquet, administrators, coaches and community members lauded the not only the students' athletic achievements, but the academic achievements of the graduating class.
The class of 2017 's Top 10 percent were recognized and presented their honor cords.
The Top 10 include Valedictorian Veronica Ahumada, Eduardo Mercado, Jacquelin Flores, Gabriell Garza and Salutatorian Denia Trujillo.
Fifty graduates will march commencement ceremonies at 7 p.m. June 9, Mabton Principal Caleb Oten said.
He praised Abigahil Garzon, who will also graduates with an Associate's of Arts degree from Yakima Valley College.
"She is a dual graduate… something to be proud of accomplishing," Oten said.
Garzon, who plans to attend Washington State University, received the $500 Mel Todd Award and a $500 Jo Belfour Memorial Scholarship.
Veronica Ahumada was named the Carmen Johnson Memorial Scholarship, which was presented by Johnny Gusby and Greater Mabton Association's Gaye Vandermyn. The $1,500 scholarship funds were raised at the annual Carmen Johnson Basketball Tournament. She also received the $500 Keith Morris Memorial Scholarship and the $1000 Dr. David A. Middle Science Scholarship, to go towards attending the University of Washington.
Recognizing other scholarship recipients was retired math teacher, Greg Hurn.
He presented Alejandro Guzman with the $250 Mabton Education Association scholarship and a $1,000 Jo Balfour Memorial Scholarship. Guzman hopes to attend Washington State University.
Flores also received a $50 Jo Belfour Memorial Scholarship to assist her at Washington State University.
Sara Rabadan,who plans to attend Central Washington University, also received a $500 Jo Belfour Memorial Scholarship.
Garza is the recipient of a $1,000 Carson-Butler Sisters Memorial Scholarship. She will attend Washington State University.
Each receiving a $500 Carson-Butler Memorial scholarship were Linda Rubio, Yesinia Madrigal and Adrian Quintero Jr.
Rubio will attend Eastern Washington University, Madrigal will attend Washington State University and Quintero will attend Yakima Valley College.