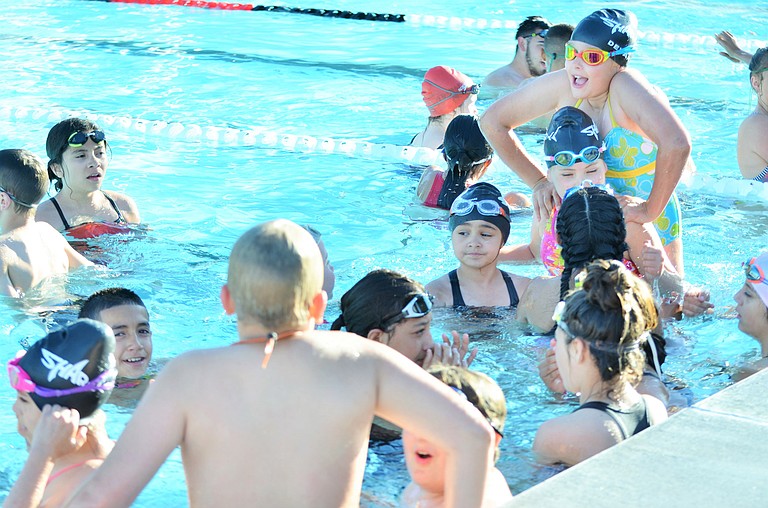 GRANDVIEW — The school year is nearly at its end and the weather is warming, reminding Lower Yakima Valley residents summer is nearly here.
With summer arriving, area pools will be opening with swim lessons and open session time slots for residents to enjoy a plunge to get out of the heat.
Swim team practices began in Sunnyside last night. Grandview and Prosser start Monday.
GRANDVIEW
The Grandview Pool at 601 W. Second St. opens at 1 p.m. June 15.
New water slides and an expanded areas for those poolside provide patrons more opportunities to enjoy the facilities.
Open swim sessions are 1-4 p.m. 7 days per week, and family swim is 6::30 to 8 p.m. Monday through Friday, 5-7 p.m. Saturday and Sunday throughout the summer months.
There will be dates during which the Grandview Rotary Swim Team hosts swim meets. During those dates, there will not be any family swim session.
Swim lessons begin June 19. Each session is two weeks long, with the second session beginning July 3, the third begins July 17 and the last session starts July 31.
Sessions are planned according to different swimming capabilities.
Waterskippers (pre-school), Starfish (level 1), Jellyfish (level 2) and Seahorse (level 4) sessions take place at 11:45 a.m. Starfish, Jellyfish, Goldfish (level 3) and Dolphin (competitive) lessons will be at 12:15 p.m. At the end of the day, 5:15 p.m., instructors will teach additional Waterskippers, Starfish, Jellyfish and Goldfish lessons.
There will not be a 5:15 p.m. class for the fourth session.
Family and individual season passes are available at the cost of $80 and $40 for city residents. For those living outside the city limits, passes are $120 and $55, respectively.
The pool is also available for rentals.
For more information, call 509-882-9219.
PROSSER
The Prosser Aquatic Center opens at 4 p.m. June 14.
Open swim sessions will be 12:30-8 p.m. daily, lap swim is 6:30-9 a.m. Monday through Friday, and staff will open a lane for lap swim upon request during open session.
The center also offers family and senior swim sessions. Seniors can enjoy the facilities from 11:15 a.m. to 12:15 p.m. Mondays or 5:30 -8 p.m. Wednesdays during open swim.
Family nights are 5:30-8 p.m. Mondays.
There are six swim lesson sessions. The first begins June 19. Session 2 takes place on the weekends, beginning July 8.
Session 3 begins July 10, and session 4 begins July 24.
Session 5 is another weekend session, beginning July 29; and session 6 begins Aug. 7.
Classes cater to different ages. The Minnows class is tailored to children between ages 3 and 6; Guppies classes are for 5 to 7-year-olds; Otters is tailored to 6 and 7-year-olds, Barracudas is recommended for 6 to 8-year-olds, Dolphins is aimed at 7 to 14-year-olds and Sharks is an advanced class.
For more information, call 509-786-8225.
SUNNYSIDE
The Sunnyside Municipal Pool opens at 1 p.m. June 17.
Lap swim sessions are available 6:30-11:30 a.m. and 1-7:30 p.m. Monday through Friday, as well as 1-7:30 p.m. Saturday and Sunday.
Open swim is 1-7:30 p.m. 7 days per week.
The pool will close at 5:30 p.m. on dates during which the Sunnyside Rotary Swim Team hosts meets.
Passes are available at the cost of $15 for children 7 and younger and $25 for all others for a 10-day pass. Individual season passes are $55 for city residents, $68.75 for those living outside city limits. Family passes are $150 for city residents, $187.50 for non-residents.
Swim lessons will be taught in four sessions, with the first starting June 19. Session 2 begins July 10, session 3 starts July 24 and the final session starts Aug. 7.
As with the other pools, there are six swim lesson levels. The first level is an introductory class, fundamentals are taught in the second level, stroke development is the focus of the third level, stroke improvement is taught at the fourth level, stroke refinement is taught in level 5 classes and the sixth level teaches swimming and skill proficiency.
For more information, call 509-837-8660.