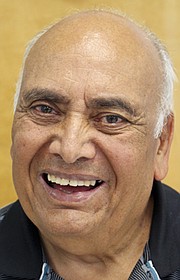 SUNNYSIDE — The Daily Sun has hired veteran newspaper man Ted Escobar as its managing editor.
Yesterday was his first day on the job.
Escobar started his career in 1971 with Tri-City Herald in Kennewick. He spent his first year at its Sunnyside bureau.
"I've been doing something in newspapering ever since," he said.
Escobar has freelanced, been a full-time reporter and has been an editor since 1985. All his work has been within a triangular region including Tri-Cities, Yakima and Moses Lake.
Escobar worked for Flint Publishing in Toppenish from 1978-2006, editing the Toppenish Review, the Yakima Valley Business Journal and the Spanish language weekly Viva.
Escobar's last assignment, 2010-2017, was editor of the weekly Sun Tribune which circulates from Othello to Royal City to Mattawa.
"When Jim Flint sold the company in 2006, all of the publications went with it, and I didn't fit into the new owner's plans," he said of his time with Flint Publishing.
"I signed on with the Columbia Basin Herald to edit a seasonal paper at Crescent Bar," Escobar said. "Then they asked me to help launch the Sun Tribune."
Escobar left the Sun Tribune at the end of April and started freelancing in sort of a semi-retirement. One of his clients was The Daily Sun the past two months.
"I was really planning to cut back, but I didn't expect this opportunity to open up," Escobar said. "When it did, I had to consider it; I live just over in Granger, and I was raised in the Outlook area."