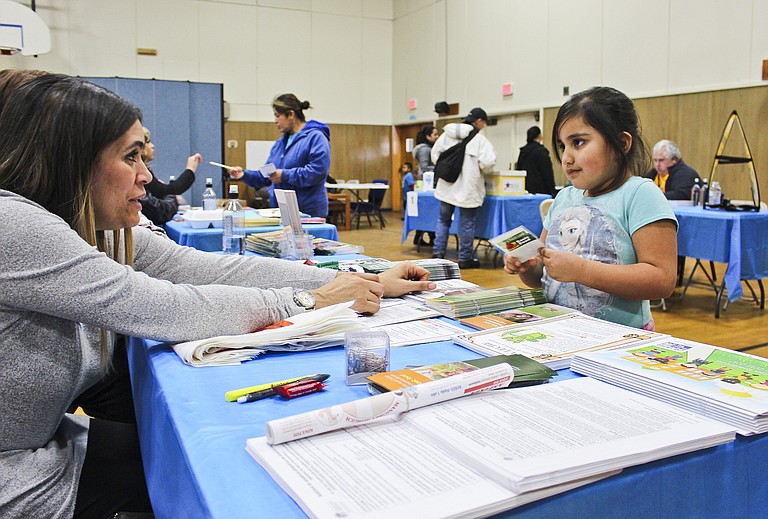 Thursday, January 26, 2017
/lk
SUNNYSIDE — Fewer participants visited yesterday's Project Homeless Connect than last year's event, a situation which can perhaps be blamed on the weather, organizers said.
But site coordinator Annette Rodriguez was not unhappy about the low turn-out.
"We contacted people I believe really needed our help," she said, noting that more than 280 meals were served.
Men's and children's clothing were in high demand, but in short supply at yesterday's Project Homeless Connect resource fair in St. Joseph Catholic Church's parish hall gymnasium.
Neighborhood Health Services housing case manager Janaye Penafiel, ran the clothing booth at the one-day event.
"We just didn't have enough men's clothing, and we ran out of blankets, too," she said. "We gave away everything we could."
She said there were very few boxes of women clothing left over by the end of the day.
"We were very busy," she said.

Penafiel was one of more than 40 volunteers who manned vendor tables, served food and took surveys counting the number of homeless who walked through the gymnasium doors.
Besides clothing and blankets, participants could access free services ranging from photo identification cards from the Department of Licensing to a hot meal served by Grandview High School Leadership Class volunteers.
Neighborhood Health Services provided health screenings for more than 20 people and made numerous referrals for persons seeking primary care providers.
Rodriguez said her volunteers met with more than 12 street people, 11 of whom are living in their cars, she said.
"Since they have been identified, we can begin to find help for them," she said.
And, help is just what one Grandview man, a father of two small children, was seeking.
Jeff, who declined to give his last name, said he has sought housing from Tri-Cities to Sunnyside during the past six months. He has been staying with family in Grandview, but must move soon.
"I have a job lined up, but I need a place to live," the 46-year-old man said.
Jeff, who took advantage of the resource fair to collect housing and service information, left with hope of finding emergency housing.
"Up to now, I haven't been able to find housing. The rents are too high and the housing agency waiting lists are too long," he said.
Project Homeless Connect events were also offered yesterday in Toppenish at the Yakama Heritage Center.