Wednesday, December 27, 2017
/lk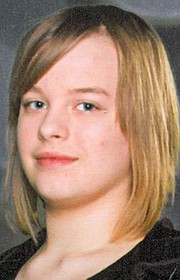 A lover of history, her interest in preserving community history was piqued when Shyleen Stremler decided to take part in a spooky night at the Sunnyside Museum.
Each year at the museum presents a Halloween event, as well as a movie night at the museum and several open house events, including the recent old Fashion open house.
Instead of being scared off by all things old, squeaky and different, the 19-year-old Grandview girl found herself finding reasons to return to the 704 S. Grant St. building that once housed a funeral home and mortuary.
Today, Stremler is a member of the museum board of directors, eager to offer her ideas for future exhibits at the community historical treasure.
"I really like it at the museum. I'd like working on the exhibits," she said.
She enjoyed working at the museum so much she decided to adopt the museum as her graduation senior project.
"I love history and it was so cool to see it all around me," she said.
"I ran across some old photos that were of down town in the old days. I found it amazing to see the many changes of the town where I grew up," she said.
She took advantage of her interest to learn how exhibits are organized.
"My favorite was the veterans' exhibit," she said. "I have a lot of veterans in my family."
Stremler said she worked on a number of exhibits, and helped with the museum's spring open house held each April and its Christmas open house.
"My favorite part of working at the museum seeing how visitors were eager to absorb the history of the town, Stremler said.
"I really like meeting the visitors and hearing their stories," she said.
Stremler, who graduated from Sunnyside High School in June, is taking a little time before signing up to be a member of the U.S. Army National Guard Reserves.
"I'd like to eventually become a teacher," she said.