Friday, December 22, 2017
/lk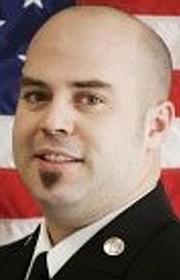 PROSSER — West Benton Fire and Rescue has a new chief.
Seth Johnson, a Class of 2000 graduate of Sunnyside High School, is now at the helm.
He began his fire fighting career as a volunteer at the Sunnyside Fire Department and Yakima County Fire District No. 5 in 2001.
That year, Johnson attended the academy for structural firefighting and wildland firefighting on behalf of the county's fire district.
In 2002, he became a certified emergency medical technician.
Johnson met his wife, Sara (Spry) Johnson, in 2005 and joined the Grandview Fire Department while continuing to volunteer with Yakima County Fire District No. 5.
The Johnsons married three years later, and on Aug. 6, 2009, Seth Johnson was hired as the training captain in Prosser.
He was named interim fire chief May 13, 2017 and last month was tapped to continue serving in the role on a permanent basis.
Johnson is the son of recently retired Sunny-side firefighter Bob Johnson. His father exposed him to service to the community via firefighting and served the city of Sunnyside 32 years.
Johnson and his wife have three children — 16-year-old Colby Johnson, 10-year-old Copper Johnson and 5-year-old Gunnar Johnson.
When he is not working, Johnson enjoys off-road motorcycle adventures, camping throughout the Pacific Northwest, working on cars and motorcycles, and teaching his children how to ride motorcycles.
He said he looks forward to his new role as fire chief.
"I want to continue to build strategic partnerships with surrounding agencies, streamlining operations, modernizing the fleet and continuing progression of services offered to our citizens," Johnson said.