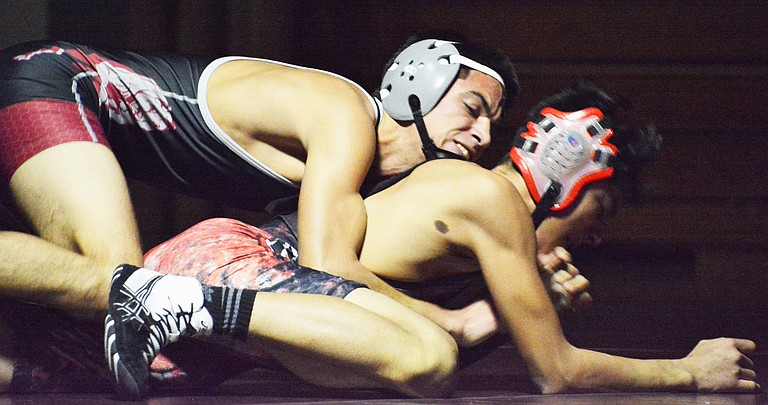 Friday, December 15, 2017
/lk
GRANDVIEW — The Greyhounds boys wrestling team succumbed to the East Valley (Yakima) Red Devils, 25-51, last night.
Three Greyhounds won their matches by pin.
Adrian Benitez, 120 pounds, was able to subdue Cerrillo Garcia in 2:23.
At 138 pounds, Ian Campuzano defeated Juan Gutierrez in 1:13.
Winning the 152-pound bout in 50 seconds was David Lopez. He defeated Rosendo Villanueva of East Valley.
But, the Red Devils had fierce competitors on the mat, as well.
Grandview's Isaac Dean lost to Dylan Beaver at 145 pounds in 3:54.
Blaze Luiheim won the 160 pound match against Jesus Sanchez of the Greyhounds in 34 seconds.
Abasai Mendoza of Grandview fell in 2:48 to Jaden Lopez in the 113-pound weight class.
It took 20 seconds for Micah Miller of the Red Devils to subdue Anthony Hernandez at 126 pounds.
At 285, Martin Garcia of the Greyhounds fell to Allen Castillo of the Red Devils in 16 seconds.
There was an injury default after East Valley's Alexis Martinez scored near fall points against 170-pound Greg Vivar of Grandview. Vivar left the mat, nursing an ankle injury.
The Red Devils won the 182 and 220-pound bouts via forfeit, and the Greyhounds won the 195-pound match via forfeit. The 106-pound match was a draw due to a double forfeit.