Friday, April 14, 2017
/lk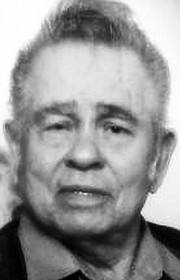 Our beloved husband, father, grandfather, brother, uncle and friend, Raul I. Esqueda, 81, of Granger, went to be in the arms of his Heavenly Father, surrounded by his loving family, Tuesday, April 11, 2017, in Yakima.
Raul was born Sept. 20, 1935, in Rodriguez, Nuevo Leon, Mexico, the son of Inez and Benita Esqueda.
In the mid 1940's the Esqueda family traveled to Washington state, where they made their home in the Satus area.
Raul's career began with Golden Gate Hop Ranch, where he met Petra Hernandez, a strikingly, beautiful woman who instantly caught his eye. Raul knew she was the one and he pursued her at every opportunity; church socials and while she worked at her father's Satus store, eventually beginning a courtship that would lead to nearly 60 years of a loving marriage.
Married on Nov. 9, 1957, this couple's love for one another would become a legendary holy union.
Raul and Petra shared the same values of faith and family. Their strong Catholic faith was their foundation and guidance as they began their family.
Their desire to fill their home with joy and laughter began with their first born, Raul (Rosemary) Esqueda Jr. and their extension of their love continued with Rosemary (Elias) Castro Jr., Laura (Rocky) Simmons, Susie (Noe) Zamarron, Gloria (Tony) Magana, Daniel (Esmeralda) Esqueda, Gabriel (Patricia) Esqueda, Jaime (Alma) Esqueda and Dolores (Chemo) Cantu Jr.
One of Raul's strongest characteristics was his hard work ethic.
He spent most of his career working for his father-in-law, Mike Hernandez, for 25 years. His respect, admiration and loyalty to his father-in-law was a fitting tribute to the same feelings he had for his wife, Petra.
In addition to his work as a farm laborer, Raul also worked for Sun King and Tree Top warehouses.
Due to an unfortunate illness, Raul was not able to continue his love and commitment for farm work.

He then spent the next 15 years working as a custodian for the Yakima Valley Farm Workers Clinic in Grandview, where he retired at the age of 70. Raul embraced his new line of work. He developed a sincere love and admiration for his work at the Clinic and made many friendships.
His extraordinary characteristics touched lives everywhere he went.
Raul and Petra raised their family in Granger. The children attended Granger school, as well as several grandchildren and great-grandchildren.
Naturally, he became a devote "Spartan" fan. He loved to show off his Spartan attire and attend sporting events.
He developed many relationships throughout the community and was deeply admired by everyone. Raul was baptized and raised in the Catholic faith. He was a member of Our Lady of Guadalupe Church in Granger. He was a devout Catholic his entire life.
Of his many interests, Raul loved two sports, boxing and baseball. His favorite boxer was Canelo Alvarez and his favorite baseball team, without a doubt, was "Los Marineros" (the Mariners).
He took pride in maintaining an immaculate yard with a nicely trimmed, deep green grass and plush rose bushes.

Another hobby consisted of making the best salsa ever. He spent a lot of time and energy perfecting his recipe; he jarred his salsa and individually delivered to each of his children.


Above all, his greatest love was his wife, Petra. He lovingly referred to her as his "Luff". She was his #1 priority. He never went a day without expressing his love for her. It wasn't uncommon to find labels throughout the house and cars that said, "Raul loves Petra". They were inseparable, never going anywhere without one another. Petra dedicated her life to being a devoted and faithful wife. He gave her all the credit for their long-lasting marriage and often said she made it easy for him to be the husband and father he was. Raul gave her the same devotion in return. He cared for his wife every day; lovingly serving her and meeting her every need.
Raul's next love was his children and grandchildren. He played a major role in every grandchild's life, supporting them at sporting events throughout the lower Yakima Valley, picking them up from school, taking them to doctor appointments and trips to the store to buy goodies. He had a unique way of making every child feel special and left an everlasting impact in their lives. They all agree he was "the best grandpa ever!"

Raul was the heart of his family. There was no other soul like his. He is missed beyond words can describe.

Raul is survived by his adored wife, Petra Esqueda; his children; 36 grandchildren; 32 great-grandchildren; a great-great-grandson; and brothers, Armando and John Esqueda.
He was proceeded in death by his mother, Benita Esqueda; father, Inez Esqueda; sister, Eloisa Casas; and brothers, Oscar Esqueda, Reyes Esqueda and Evodio Esqueda.
Recitation of the Holy Rosary will be at 6 p.m., Monday,
April 17, at Smith Funeral Home in Sunnyside.
Mass of Christian burial will be at 10 a.m., Tuesday, April 18, at Our Lady of Guadalupe Catholic Church in Granger.

Raul will be laid to rest at the Elmwood Cemetery in Granger, under the direction of Smith Funeral Home, Sunnyside.
Those wishing to sign Raul's on line memorial book may do so at www.funeralhomesmith.com.
Smith Funeral Home is in care of arrangements.