Thursday, September 1, 2016
/lk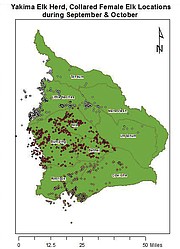 SUNNYSIDE — State officials say last summer's heat, last fall's hunt and last winters cold will likely mean a downturn for elk prospects this season.
According to the new "Hunting Prospects" web pages released by the state Department of Fish and Wildlife, hunters in Eastern Washington's District 8 — comprising Yakima and Klickitat counties — will have to head to high ground for elk and elk this year for a successful hunt and fewer hunters.
"Consider the higher elevations of District 8," the webpage says.
Despite the expected decline in deer and elk hunting success, the state still reports that "this district is the best in the state for elk hunting."
State officials said that during the last five years, the average hunting success rate here has dropped to about 8 percent — meaning only about 1 in 12 hunters come home with elk.
That percentage is expected to decline this year due to the last year's weather.
"Approximately one-third of the radio-collared female deer in the area died from May 2015- May 2016, and fawn recruitment was reduced," the website says.
With the animal population decline, hunting is expected to be affected for at least the next couple years.
"The largest impact on harvest might not be seen until 2017 or 2018, since most harvest is on 2- or 3-year-old bucks," the webpage says.
State officials suggest the best hunting may be at the end of this year's hunt, rather than on opening weekend of modern firearms season or beginning hunting with a bow or muzzleloader.
"If you are looking for a higher-quality experience, consider hunting the last two or three days of the modern firearm season or switching to archery or muzzleloader," the website says.
Heavy snow last winter in the mountains also pushed elk populations lower, and into orchards and farms. As a result, the state issued more than 500 permits to kill elk over the year.
With the elk population also effected, the state recommends applying for special hunt permits.
"Our advice to most hunters who come here is to continue to hunt the general elk season for spikes, but keep putting in for special permit hunts," the website said.
Officials said the upper elevations also offer the best opportunity for elk hunting this fall, noting that can change if winter comes early and forces elk migration.
"Hunters will find more elk at higher elevations and away from roads," the website says. "The wilderness areas in the Yakima herd range can provide excellent hunting opportunity for those willing to invest the effort to chase elk in the high country. "
The modern firearms season is set for Oct. 29-Nov. 6 this year. An antlerless permit hunt in Colockum game units 328 and 329 is also planned for Nov. 4-8.