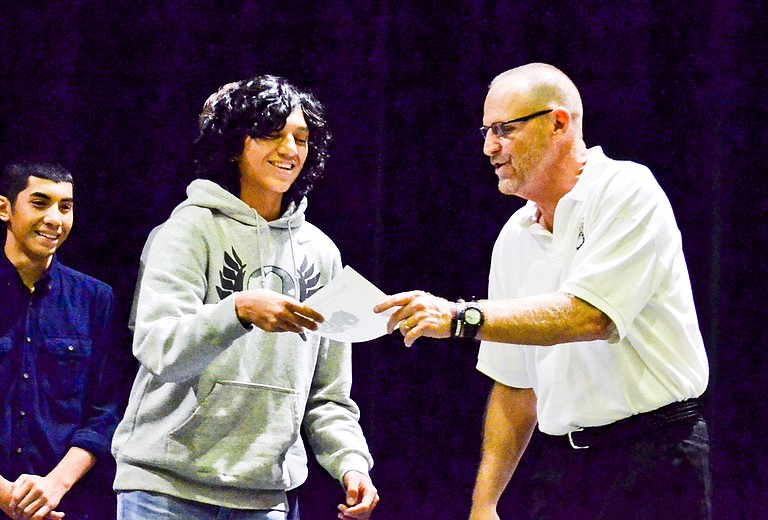 Wednesday, November 23, 2016
/lk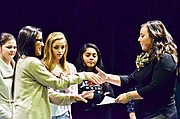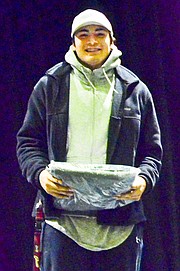 SUNNYSIDE — Grizzlies participating in athletics give their time and effort to represent the school each season.
For their sacrifice during the fall, numerous athletes were recognized at last night's awards ceremony.
Athletic Director Reed Hornung started the evening's celebration, recognizing student athletes, parents and coaches for their efforts.
"They make a lot of sacrifices," he said.
The athletes serve not only as school representatives, but are held to a higher standard, Hornung said. They must maintain a high grade point average, work through adversity and be good role models on and off the field.
"There's nothing easy about being a student athlete," he said.
Just as in life, Hornung said student athletes struggled through adversity. It's how they respond to and react to defeat that is important, he said.
"I hope you had fun building relationships with your teammates," he said, addressing the athletes present.
Sharing the academic achievements of the student athletes in the falls sports program, Hornung said the overall grade point average is 2.97 and he believes it will be better than 3.0 next week.
Teams earning better than a 3.0 when the Washington Interscholastic Athletic Association named them for academic achievement awards included the girls cross country and volleyball teams.
Hornung said two other teams — the soccer and swim teams — would be among the academic achievers if the awards were selected last night.
Nico Valle of the football team and cross country athlete Dallas Borrego were recognized for academic excellence by the National Electrical Contractors Association and International Brotherhood of Electrical Workers for demonstrating balance in academics and athletics.
Cross country
Harriers earning a 3.0 or better include Angel Garcia, Alan Ochoa, Abraham Arreola, Ivan Gonzalez, Izaiah Gonzalez, Kaden Maxwell, Julian Michel, Derek Weaver, Michael Condie, David Jimenez, Emmanuel Ocampo, Francisco Garcia, Joe Rodriguez and Griffey Sarmiento.
The academic Most Valuable Player Award was presented to Arreola, Weaver, Condie and Jimenez. The four maintained a 4.0 grade point average during the season.
The cross country girls team members earning academic recognition included Lilian Froese-Raihl, Maria Carrillo-Espinoza, Yairel Quiroz-Jimenez and Mireya Sanchez-Cisneros. Froese-Raihl was named academic Most Valuable Player.
The Coaches Award was presented to Condie, Joe Rodriguez and Sierra Cavazos. Froese-Raihl was presented the Captain Award, and Sarmiento and Borrego earned the Most Valuable Runner awards.
Football
The freshman players who achieved academic success include Enrique Amaro-Jasso, Branli Arroyo, Miguel Ayala, Alberto Chavez-Banuelos, Arturo Fernandez, Patrick Gallagher, Ulises Gutierrez, Saul Macias, Francisco Magallan Jr., Adrian Pedroza, Jonathan Penafiel, Ramon Rivera-Maysonet, Ramiro Robledo-Betancourt, Angel Valencia, Dylan Clampitt, Nathan Davila, Derrick Escamilla, Jacob Gomez, Marcus Maldonado, Ethan Montelongo, Javier Pineda, Seth Weron, Nathan Zambrano, Andrew Gallagher, Cole Hazzard, Daniel Huizar, Alexis Lopez, Rudy Mindieta, Vidal Reyes, William Bowman, Andrew Diddens, Isidro Diddens-Maldonado Jr., Eduardo Estrada, Collin Hurst, Jesus Mendoza, Elias Milanez, Alexander Nunez, Zackary Spidle and Nico Valle.
Valle was the academic Most Valuable Player. He also received the Offensive Player of the Year Award.
The Defensive Player Award was presented to Lorenzo Sanchez, the Captain Award recipient was Andrew Diddens, Franklin Barron was named Most Improved and Nate Maltos was the Most Inspirational player.
Girls soccer
The soccer players earning a grade point average of 3.0 or better include Citlali Alcaide, Sylvia Alvarez, Jennifer Castillo, Angie Gudino, Jennifer Mendez, Natalia Naranjo, Josselyne Prieto, Kameran Rodriguez, Erika Santiago, Abigail Zavala, Ariana Alvarez, Anamelia Arredondo, Paloma Castizo, Jayda Denson, Morgan Duim, Chastitee Garza, Briana Granados, Gabriela Licona-Badillo, Ashlee Maldonado, Vivian Ramos, Mariah Saenz, Arriana Sanchez, Jose Solis, Lizette Ambriz, Aylin Gonzalez, Estephany Gonzalez, Kayla Lopez, Susana Munoz, Aylin Bautista, Emilee Maldonado and Destiny Salinas.
The academic Most Valuable Player was Kameran Rodriguez.
The team's Most Valuable Player was Emilee Maldonado and the Most Improved Player was Duim.
Swim and dive
Teammates from the swimming and diving team who earned a 3.0 grade point average or better were Aline Anderson, Gillian Moyer, Arizona Rodriguez, Teresa Rodriguez, Jamie Stanton, Evelyn Villegas-Zaragoza, Stephanie Blankenship, Kylah Bunch, Clarisa Calderon, Brielle Newhouse, Alexandra Partch, Allison Davis, Morgan Gardner and Erica Linde.
Partch and Villegas-Zaragoza were the academic Most Valuable Players.
Blankenship was voted Most Improved, Davis was Most Valuable Player and Bunch received the Coaches Award.
Volleyball
The Grizzlies volleyball team members also earning academic achievements were Bianca Alaniz, Ebony Andrade-Rodriguez, Jessica Appleby, Hogla Cortez, Yulianna Godinez, Samantha Norem, Janese Santos, Lani Skyles, Nayeli Suarez-Godinez, Lourdes Torres, Marlee Weets, Keisha White, Macy Clough, Jessica Estrada, Yvette Gonzalez-Ramirez, Abigail Jonson, Lizette Martinez, Annahi Morfin, Yadira Rivas, Megan Rodriguez, Rebekah Valle, Gabrielle Longoria, Allison Palomarez, Naila Rodriguez, Alexandra Skyles, Sara Casillas, Larissa Fuentes, Diana Pacheco and Janeth Rodriguez.
Rivas earned academic Most Valuable Player honors.
The Heart and Hustle Award recipients included Longoria, Samantha Newberry, White and Jacqueline Cornwell.
Jenelle Sanchez was Most Valuable Player for the varsity team and Mercedes Zavala for the Junior Varsity team. Lanie Skyles was the freshman team's most valuable player and Janeth Rodriguez the "C" squad most valuable player.
Most Improved Players for the varsity, JV, freshman and "C" squads include Miriam Galva, Arlene Marin, Bianca Alaniz and Sara Casillas, respectively.
The Coaches Award recipients for each of the teams include Adela Castaneda, Lindsey Escamilla, Marlee Weets and Diana Pacheco.
Captain Awards were presented to Sanchez, Mikaela Campos, Weets, Cornwell, Kiana Hellner-Gomez, Zavala, White and Janeth Rodriguez.