Tuesday, May 24, 2016
/lk
Photo Gallery
Grizzlies fly through Districts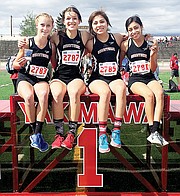 SUNNYSIDE — A young Sunnyside track team will be heading to state Thursday.
The girls heading to Tacoma include two freshmen, one sophomore, one junior and one senior.
Leading the way for the Grizzlies is junior Jessica Linde who swept the competition at districts.
Linde won the 300 hurdles, long and triple jumps, and anchored the winning 1,600 relay team.
"Qualifying for state in four events is very impressive," coach Dustin Crowe said. "It's very fun to see all of her hard work pay off."
Sophomore Dallas Borrego was the other individual qualifier for Sunnyside.
She finished runner-up in the 800, followed by running a leg on the 1,600 relay team.
The Grizzlies will be sending the 1,600 relay team to state for the second consecutive year.
The team includes freshmen Sierra Cavazos and Janessa Frank, and senior Jeniya Guillen.
"It took a lot of patience and hard work to get the team together," Crowe said. "But they put in a lot of work to get there."
For the boys, Sophomore Nathon Maltos flirted with state qualifying times but missed.
Maltos' marks in the 200, 400 and long jump are among the best in the state.
He has the fastest sophomore times in the state for the 400.
"Although Nate didn't qualify to state, he had an outstanding weekend," Crowe said.
Coaches have been working hard to prepare athletes all season.
"We are going to focus on sharpening up and fine tuning without breaking down," Crowe said.
"It's a great opportunity for our athletes to test themselves against the best in the state."
The Grizzly athletes have been knocking on the door of the record books having already broken some this year.
Linde set the new school record in the 300 hurdles.
Her time of 45.50 beat Hilary Van de Graaf's old record of 46.39.
Borrego sits at second all time in the 800.
The girls 1,600 relay is second all time to last years team.
And Maltos is only a small margin away from taking over the 200 and 400 meter records.
Senior Madison Marro capped off her final year with a distance of 35-09 in shot put for the second best all-time distance.
Linde begins her state tournament with triple jump at 3:45 p.m. Thursday.
While having the 300 hurdles at 1:25 p.m., followed by long jump at 1:30 p.m. both on Friday.
The 1,600 relay team have preliminaries at 6:15 p.m. Thursday
Borrego has the 800 preliminaries at 12:25 p.m. Friday.
The 4A state championship meet starts Thursday at Mount Tahoma High School, 4634 S. 74th St. in Tacoma.