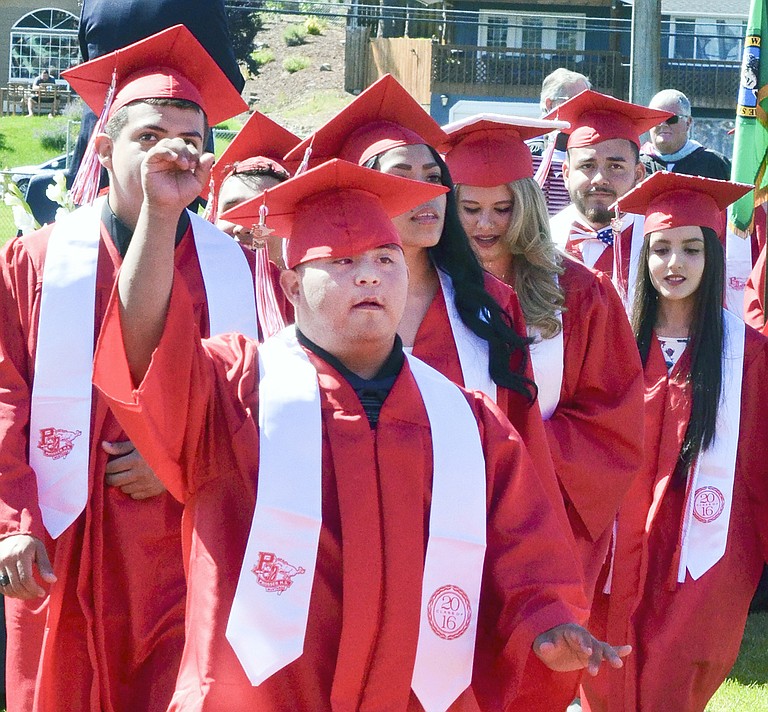 Monday, June 13, 2016
/lk
Photo Gallery
Prosser High School Class of 2016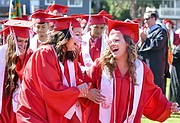 PROSSER — The class of 2016 is preparing for the future beyond high school.
The High School's 209 graduating seniors were celebrated Saturday at Art Fiker Stadium.
Three valedictorians addressed their classmates, parents, teachers and friends.
Joslyn Felicijan said there are some people who look back to their high school years with fondness, remembering good times. "Others think of the many challenges," she said.
For her, there are memories of being bullied. But, there are also memories of her parents and teachers who supported her.
Felicijan said her parents helped her stay on task and made sure she had the proper tennis equipment.
Teachers provided her the tools to overcome educational challenges and showed her learning could be fun.
"They are the real reason I am college and career ready," Felicijan said.
To her classmates, she said, "I implore you to be spontaneous and adventurous."
Ariah Yager expressed her gratitude for all who supported her through high school.
"We made it," she yelled.
High school was not easy for the class of 2016, which had four missing classmates due to tragic deaths, Yager said.
"If we could sell our experiences, we'd all be millionaires," she said.
The difficulties and struggles made the class more "tight-knit," Yager said.
"Don't take anything for granted… do things you never thought you would do," she said.
Anthony Wiley said he wanted to inspire those celebrating the commencement, but knew he would be less inspiring than he'd like to be "… especially since a lot of my vocabulary includes the word 'thingy'."
There are many accomplishments he believes his classmates should take pride in. His fellow football players can take pride in winning the state championship, especially since they were underestimated.
"You have more heart and drive — go get 'em," he said.
Wiley wrote a poem for his classmates, in which he said, "I'm just another kid here with a cap and gown… go where you are going and do your best… do not look down upon another human being."
Top graduates and those entering the military and current or former members of the armed forces were recognized by Superintendent Ray Tolcacher prior to the presentation of diplomas.