Thursday, December 22, 2016
/lk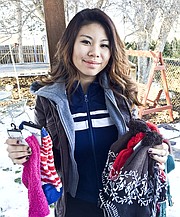 SUNNYSIDE — She has been working on her homeless project for several years.
Each year, the holiday project to benefit the homeless gets a little bigger.
On Christmas eve, Danielle LaPierre, 17, along with her mother, Peggy LaPierre, and sister, Cheree LaPierre, will deliver more than 100 pairs of socks, scarves and hats to individuals served by a Wapato homeless shelter.
Last year, the family delivered blankets.
Since adopting the homeless program as a senior project, Danielle has found people to be very generous.
"I know that there are many homeless people living in very poor conditions right here in the Yakima Valley area," the Sunnyside High school student said.
Danielle said, last year,she worked with many community members in collecting hundreds of blankets for the homeless.
"I was thrilled at how much joy the people expressed when they received the items that were collected," she said. "I love helping people."
During the past month, Danielle has distributed boxes at area churches, businesses and doctor offices.

"We will have various decorated boxes in different locations for people to use for their donations," the 17-year-old said.
The response has been amazing, Peggy said.
"We will be putting boxes in the schools after the holiday break," she said.
Originally, she planned to end the warm clothing drive on Christmas eve.
Danielle plans to continue collecting items through Jan. 31.
The items will be distributed at Yakima Valley homeless centers, including Wapato's Noah's Ark.
Some of the clothing will also be distributed through Northwest Community Action Center in Toppenish.
"This is just one facet of my senior project and I plan to complete two more before I graduate," Danielle said.