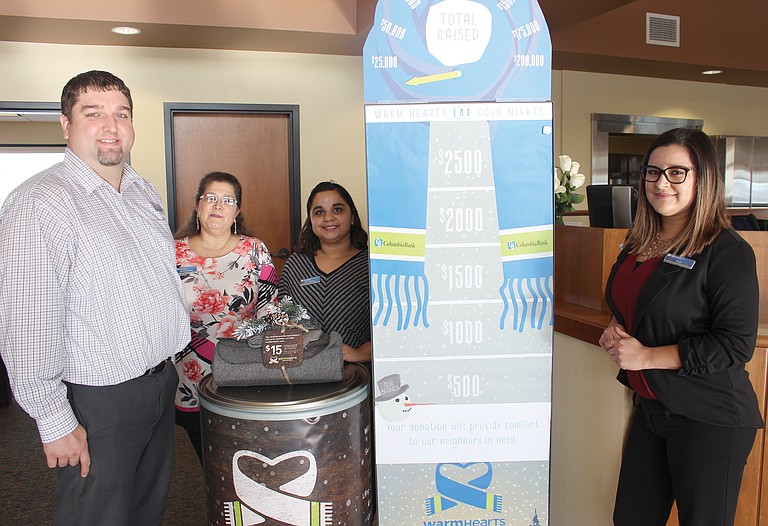 Monday, December 5, 2016
/lk
SUNNYSIDE — A coat drive for the homeless is under way at the local branch of Columbia Bank.
"We are organizing this during the holiday season to help care for the needy and homeless in our community," Branch Manager Ben Eisenga said.
This will be the second year our banking team has been involved in the regional Warm Hearts Winter Drive," coordinator Tanya Gutierrez said.
"Last year, we were partnered with the Yakima branch and donated cash and warm clothing to the Noah's Ark, a homeless program in Wapato," she said. "We have seen the need for warm clothing."
Gutierrez said the drive, which runs through Dec. 31, will accept new and gently used blankets, gloves and scarves.
"We are also accepting cash," she said. "We are inviting our customers and staff to make a charge for those who are less fortunate."
Gutierrez said she hadn't realized the need for warm outerwear for the needy until last year's tour of the Wapato facility.
Among the thing she learned is that there are an estimated 34,683 homeless people across the northwest.
"But there are only 11,269 shelter-beds available," she said. "You don't realize the need until you see it for yourself."
"Last year, the branch collected $1,000 in cash, plus ideas for the mission. Regionally, more than $150,000 was collected for area homeless shelters," Eisenga said. "We hope to meet and exceed that goal this year."
Donations may be dropped off at the East Lincoln Avenue branch or made online at here.