Friday, September 11, 2015
/lk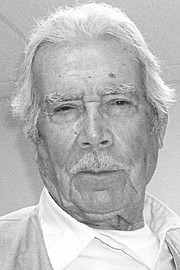 Estanislado Pinales Hernandez, 87, of Grandview passed away on Tuesday, Sept. 8, 2015, at his home surrounded by his loving family.
He was born May 7, 1928 in Donna, Texas, the son of Pablo Hernandez Leal and Maria de la luz Pinales Silva.
On March 6, 1955 he married Josephine H. Hernandez in San Jose, Calif.
He worked many years as a farmer. He enjoyed reading his Bible, collecting rocks and time spent with his grandchildren. He was a member of the Iglesia Apostolica de Sunnyside and the last pioneer of the Apostolic Assembly in Sunnyside.
Estanislado is survived by two daughters, Debbie (Louis) Pulido of San Jose, Calif. and Dina (Clemente) Navejar of Pasco; and one son, Dan Hernandez of Grandview. He is also survived by 13 grandchildren and 20 great-grandchildren.
He was preceded in death by his parents, Pablo and Maria del la Luz Hernandez; his wife, Josephine H. Hernandez; one son, Robert Joel Hernandez; three brothers; and three sisters.
A celebration service and viewing will be held on Sunday, Sept. 13, 2015, at 11 a.m. at Iglesia Apostolica de Sunnyside. Funeral services will be held Monday, Sept. 14, 2015, at 10 a.m. at Iglesia Apostolica de Sunnyside, with burial to follow at Lower Valley Memorial Gardens in Sunnyside.
Those wishing to sign Estanislado's online memorial may do so at www.funeralhomesmith.com.
Smith Funeral Home LTD and Crematory is in care of arrangements.
More like this story