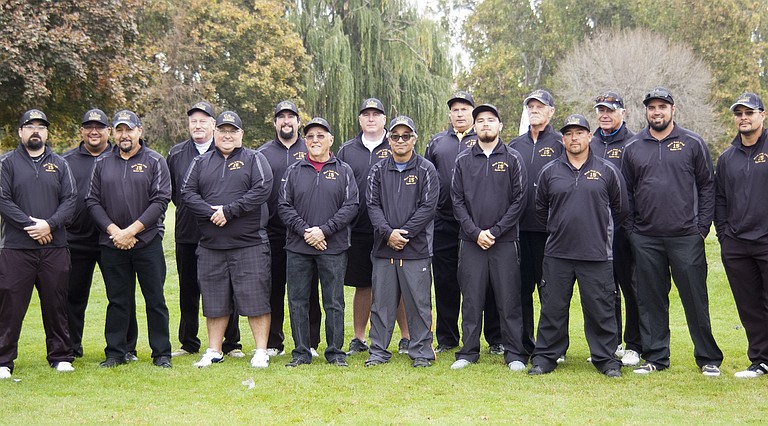 Tuesday, October 27, 2015
/lk
Somehow, some way, the Sunnyside-based Black Rock Creek Golf Course team squandered what looked to be an insurmountable lead in the Lower Valley's version of the Ryder Cup this past weekend.
Playing an eight-match, best-ball format both days, Black Rock Creek forged a heady 5½-2½ point lead on its home course Saturday.
Needing to win just three of the eight matches Sunday to lay claim to this year's cup, the Black Rock Creek squad, however, was unable to get the job done at Toppenish's Mt. Adams Country Club.
What transpired on Sunday was a reversal of fortunes. Using home court advantage, the Mt. Adams crew stormed back and posted a 5½-2½ victory of its own.
With the Ryder Cup score tied at 8-8, the two squads sent out one pairing of their own choosing for a sudden death tiebreaker. The Mt. Adams team selected Troy Wilmoth and Erick Holden to represent them, while Black Rock Creek's choice was the tandem of Nate Espinoza and Trini Madrigal.
Wilmoth, who once had aspirations of playing on the PGA Champions Tour for seniors, wasted little time in getting the job done for the Mt. Adams squad. Playing the short, 295-yard, par-4 opening hole on his home course, Wilmoth delivered with a solid drive off the blocks, following it up with an approach shot that left his ball within a yardstick or so of the pin.
The three-footer was a mere formality – a tap-in birdie so to speak - for the 3-handicapper.
Neither Espinoza, the assistant club pro at Black Rock Creek and a scratch golfer, nor Madrigal – who totes a handicap of only 2 – could match Wilmoth's tweeter on the first playoff hole.
Hence, the Toppenish bunch made off with the "Cup," and as tradition dictates will retain possession of it until next year's classic showdown between the two friendly rivals.
"It was pretty evident that players on both teams really enjoyed the competition," said Black Rock Creek PGA Professional Scott Galbraith.
"I'm pleased we revived the Ryder Cup tradition this fall, and am looking forward to the two courses hosting this fun event next year," he said.
Saturday, Oct. 24 @ Black Rock Creek G.C.
Match 1
Jon Bright & Miguel Puente (BRC) def. Troy Wilmoth & Matt Van Wingerden (MA) 2 and 1
Match 2
Nate Espinoza & Jeremy Stegeman (BRC) def. Eric Inions & Walt Wegener (MA) 5 and 4
Match 3
Tye Barrett & A.J. Cisneros (BRC) def. Mike Chambers & Russ Arbuckle (MA) 4 and 3
Match 4
Joel Pulido & Jim Leighty (BRC) all square vs. Bob Bergeron & Vern Stephenson (MA)
Match 5
Dave Wilson & Gene McIntire (BRC) def. Laney Anderson & Tony Whitley (MA) 4 and 3
Match 6
Jason Eberle & Trini Madrigal (BRC) def. Erick Holden & Chuck Linker (MA) 2 and 1
Match 7
Louis Alcala & Kevin McKay (MA) def. Sean Tudor & Grant Smith (BRC) 1-up
Match 8
Craig McCloud & Jerry Besel (MA) def. Mark Richey & Randy Boast (BRC) 2 and 1
Sunday, Oct. 25 @ Mt. Adams C.C.
Match 1
Sean Tudor & Dave Wilson (BRC) def. Kevin McKay & Louis Alcala (MA) 1-up
Match 2
Troy Wilmoth & Erick Holden (MA) def. Jon Bright & Miguel Puente (BRC) 4 and 3
Match 3
Grant Smith & Mark Richey (BRC) def. Jerry Besel & Craig McCloud (MA) 1-up
Match 4
Nate Espinoza & Trini Madrigal (BRC) all square vs. Eric Inions & Matt Van Wingerden (MA)
Match 5
Laney Anderson & Chuck Linker (MA) def. Jason Eberle & Jeremy Stegeman (BRC) 3 and 2
Match 6
Mike Chambers & Russ Arbuckle (MA) def. Tye Barrett & A.J. Cisneros (BRC) 1-up
Match 7
Vern Stephenson & Bob Bergeron (MA) def. Randy Boast & Joel Pulido (BRC) 7 and 6
Match 8
Tony Whitley & Walt Wegener (MA) def. Jim Leighty & Gene McIntire (BRC) 4 and 3