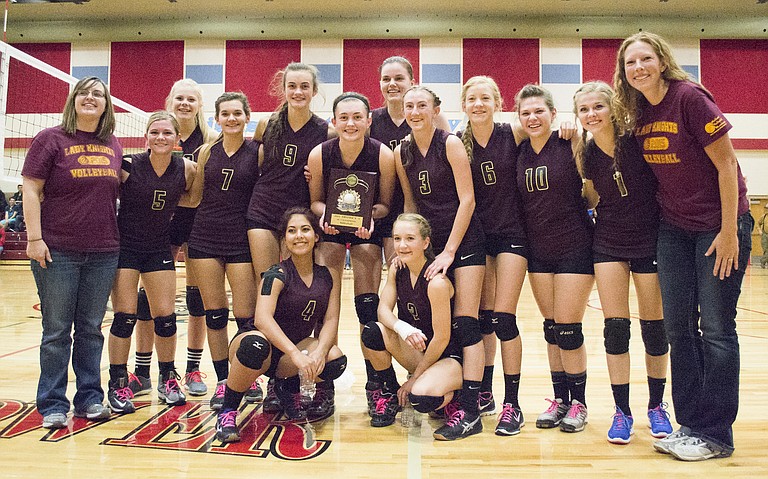 Monday, November 9, 2015
/lk
GIRLS PREP VOLLEYBALL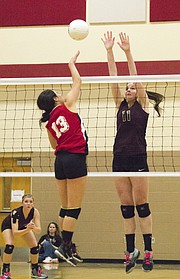 BICKLETON — Sunnyside Christian will play Neah Bay this Friday, Nov. 13, at 11:30 a.m., at the Yakima SunDome after winning the District 5 championship this past Saturday in Bickleton.
The Knights earned the championship by defeating tourney host Bickleton in four sets in the title match.
Bickleton started the match out strong with a 25-22 win in the first set, surprising the defending district champions.
Bickleton led much of the second set, but the Knights finally pulled out a 26-24 victory to even the match.
While the Pirates made Sunnyside Christian earn every point in the final two sets, the Knights came out on top, 25-22, 25-19.
"I'm super excited," Knights Coach Stephanie Dalrymple said of her team's fifth consecutive district championship.
"I'm very proud of the way the girls dug deep and fought back. We were down every set but came back. It says a lot about these girls and how much they wanted that No. 1 seed."
The Knights started out the tournament by defeating the Klickitat-Glenwood Vandals in four sets.
After taking the opener 25-13, the Knights dropped the second set 25-21. The Vandals didn't make it easy for the Knights, but Sunnyside Christian took the final two sets 25-17, 25-20 to advance to the championship match.
Dalrymple said after the match that her team needed to step it up.
"We need to get back to playing Knights volleyball," she said.
Klickitat Coach Jaecee Hoctor was pleased with the effort by her team, which won a play-in match on Thursday to make it to the playoffs.
"We played really good," Hoctor said. "My girls were intense. They didn't let the ball drop and disrupted the Knights play. We really worked as a team."
The Knights racked up some solid stats in the two matches at the tournament. Junior Aydan Harrington led the team in assists, tallying 83 helping hands. She also dug up the ball 24 times.
The Banks sisters, Emily and Katelyn, combined to go 58-for-62 from the service line for the Knights with 42 kills, 35 perfect passes and 54 digs.
Sunnyside Christian's Kristen Broersma was 36-for-40 serving and slammed 30 kills at the net.
Annelise den Hoed tallied 27 each of perfect passes and digs for the Knights. Teammate Sailor Liefke was 28-for-31 from the service line with 37 digs.